General Accessories
Extra uppercase letter stamps
X10299
array(194) {
  ["metaTitle"]=>
  string(32) "Extra uppercase letter stamp set"
  ["metaDescription"]=>
  string(38) "Xiem tools uppercase letters set 12pcs"
  ["metaKeywords"]=>
  string(0) ""
  ["parentID"]=>
  string(5) "43626"
  ["parentIDcrypt"]=>
  string(8) "oqeel5c="
  ["parentName"]=>
  string(19) "General Accessories"
  ["parentType"]=>
  string(11) "accessories"
  ["grandParentType"]=>
  string(15) "accessoriespage"
  ["grandParentName"]=>
  string(11) "Accessories"
  ["grandParentID"]=>
  string(5) "43621"
  ["grandParentIDcrypt"]=>
  string(8) "oqeel5I="
  ["boolHasParent"]=>
  bool(true)
  ["boolHasGrandParent"]=>
  bool(true)
  ["page"]=>
  string(0) ""
  ["what"]=>
  string(0) ""
  ["item"]=>
  string(0) ""
  ["idCrypt"]=>
  string(8) "o6qempc="
  ["date1"]=>
  string(19) "2015-08-17 00:00:00"
  ["date2"]=>
  string(19) "2015-08-17 00:00:00"
  ["date3"]=>
  string(19) "2015-08-17 00:00:00"
  ["date4"]=>
  string(19) "2015-08-17 00:00:00"
  ["date5"]=>
  string(19) "2015-08-17 00:00:00"
  ["radio1"]=>
  string(1) "0"
  ["radio2"]=>
  string(1) "0"
  ["radio3"]=>
  string(1) "0"
  ["radio4"]=>
  string(1) "0"
  ["radio5"]=>
  string(1) "0"
  ["check1"]=>
  string(1) "0"
  ["check2"]=>
  string(1) "0"
  ["check3"]=>
  string(1) "0"
  ["check4"]=>
  string(1) "0"
  ["check5"]=>
  string(1) "0"
  ["select1"]=>
  string(1) "0"
  ["select2"]=>
  string(0) ""
  ["select3"]=>
  string(1) "0"
  ["select4"]=>
  string(0) ""
  ["select5"]=>
  string(0) ""
  ["select6"]=>
  string(0) ""
  ["select7"]=>
  string(0) ""
  ["select8"]=>
  string(0) ""
  ["select9"]=>
  string(0) ""
  ["select10"]=>
  string(0) ""
  ["select11"]=>
  string(0) ""
  ["text1"]=>
  string(823) "


	The 12 duplicate uppercase letters which will make up a set of doubles when used with the complete uppercase stamp set.





	 





	





	 





	Xiem attachable letters are easy to snap together to form words or phrases--never worry about lining letters up again. Words or phrases can be aligned horizontally or vertically. Great with ink, paint, clay, and underglazes.

	

	This set includes 12 pieces that can be attached/clicked into each other for a straight and precise stamped area.

	 





	Also available in full alphabet uppercase letters, aphabet lowercase letters, and numbers.  Each letter is 6mm tall.


"
  ["text2"]=>
  string(0) ""
  ["text3"]=>
  string(0) ""
  ["text4"]=>
  string(0) ""
  ["text5"]=>
  string(0) ""
  ["text6"]=>
  string(0) ""
  ["text7"]=>
  string(0) ""
  ["text8"]=>
  string(0) ""
  ["text9"]=>
  string(0) ""
  ["text10"]=>
  string(0) ""
  ["name"]=>
  string(29) "Extra uppercase letter stamps"
  ["fld2"]=>
  string(6) "X10299"
  ["fld3"]=>
  string(6) "X10299"
  ["fld4"]=>
  string(1) "2"
  ["fld5"]=>
  string(109) "A--1--25---A--6--32---A--12--35---B--1--25---B--3--27---B--6--30---B--12--33---D--1--15---D--3--20---E--1--25"
  ["fld6"]=>
  string(4) "8.95"
  ["fld7"]=>
  string(0) ""
  ["fld8"]=>
  string(0) ""
  ["fld9"]=>
  string(0) ""
  ["fld10"]=>
  string(3) "503"
  ["image1"]=>
  string(10) "x10299.jpg"
  ["imageAlt1"]=>
  NULL
  ["image2"]=>
  string(0) ""
  ["imageAlt2"]=>
  NULL
  ["image3"]=>
  string(0) ""
  ["imageAlt3"]=>
  NULL
  ["image4"]=>
  string(0) ""
  ["imageAlt4"]=>
  NULL
  ["image5"]=>
  string(0) ""
  ["imageAlt5"]=>
  NULL
  ["imageCount"]=>
  NULL
  ["URL"]=>
  string(61) "accessories-general-accessories-extra-uppercase-letter-stamps"
  ["id"]=>
  string(5) "56656"
  ["boolExists"]=>
  int(1)
  ["parentWhat"]=>
  string(0) ""
  ["parentURL"]=>
  string(31) "accessories-general-accessories"
  ["boolParentEditable"]=>
  string(1) "1"
  ["active"]=>
  string(1) "1"
  ["navItem"]=>
  string(1) "0"
  ["footerItem"]=>
  string(1) "0"
  ["subFooterItem"]=>
  string(1) "0"
  ["boolEditable"]=>
  string(1) "1"
  ["userID"]=>
  NULL
  ["id2"]=>
  int(0)
  ["id3"]=>
  int(0)
  ["commodityCode"]=>
  string(3) "USA"
  ["nameLong"]=>
  string(6) "X10299"
  ["code"]=>
  string(6) "X10299"
  ["weight"]=>
  string(3) "0.2"
  ["sageCode"]=>
  string(6) "X10299"
  ["quantity"]=>
  string(1) "2"
  ["price"]=>
  string(4) "8.95"
  ["price2"]=>
  int(0)
  ["price3"]=>
  int(0)
  ["size"]=>
  string(0) ""
  ["size2"]=>
  int(0)
  ["size3"]=>
  int(0)
  ["boolSize2"]=>
  bool(false)
  ["boolSize3"]=>
  bool(false)
  ["inStockSize1"]=>
  bool(true)
  ["inStockSize2"]=>
  bool(false)
  ["inStockSize3"]=>
  bool(false)
  ["boolDiscounts"]=>
  bool(true)
  ["boolKilns"]=>
  bool(false)
  ["strDiscountString"]=>
  string(109) "A--1--25---A--6--32---A--12--35---B--1--25---B--3--27---B--6--30---B--12--33---D--1--15---D--3--20---E--1--25"
  ["date1day"]=>
  string(2) "17"
  ["date1month"]=>
  string(2) "08"
  ["date1year"]=>
  string(4) "2015"
  ["date2day"]=>
  string(2) "17"
  ["date2month"]=>
  string(2) "08"
  ["date2year"]=>
  string(4) "2015"
  ["check6"]=>
  string(1) "0"
  ["check7"]=>
  string(1) "0"
  ["check8"]=>
  string(1) "0"
  ["check9"]=>
  string(1) "0"
  ["check10"]=>
  string(1) "0"
  ["file1"]=>
  string(0) ""
  ["file2"]=>
  string(0) ""
  ["file3"]=>
  string(0) ""
  ["file4"]=>
  string(0) ""
  ["file5"]=>
  string(0) ""
  ["file6"]=>
  string(0) ""
  ["file7"]=>
  string(0) ""
  ["file8"]=>
  string(0) ""
  ["file9"]=>
  string(0) ""
  ["file10"]=>
  string(0) ""
  ["file1label"]=>
  string(0) ""
  ["file2label"]=>
  string(0) ""
  ["file3label"]=>
  string(0) ""
  ["file4label"]=>
  string(0) ""
  ["file5label"]=>
  string(0) ""
  ["file6label"]=>
  string(0) ""
  ["file7label"]=>
  string(0) ""
  ["file8label"]=>
  string(0) ""
  ["file9label"]=>
  string(0) ""
  ["file10label"]=>
  string(0) ""
  ["breadcrumb"]=>
  string(0) ""
  ["fld11"]=>
  string(3) "0.2"
  ["fld12"]=>
  string(0) ""
  ["fld13"]=>
  string(0) ""
  ["fld14"]=>
  string(0) ""
  ["fld15"]=>
  string(0) ""
  ["fld16"]=>
  string(0) ""
  ["fld17"]=>
  string(0) ""
  ["fld18"]=>
  string(0) ""
  ["fld19"]=>
  string(0) ""
  ["fld20"]=>
  string(0) ""
  ["fld21"]=>
  string(3) "USA"
  ["fld22"]=>
  string(0) ""
  ["fld23"]=>
  string(0) ""
  ["fld24"]=>
  string(0) ""
  ["fld25"]=>
  string(0) ""
  ["fld26"]=>
  string(0) ""
  ["fld27"]=>
  string(0) ""
  ["fld28"]=>
  string(0) ""
  ["fld29"]=>
  string(0) ""
  ["fld30"]=>
  string(0) ""
  ["fld31"]=>
  string(0) ""
  ["fld32"]=>
  string(0) ""
  ["fld33"]=>
  string(0) ""
  ["fld34"]=>
  string(0) ""
  ["fld35"]=>
  string(0) ""
  ["fld36"]=>
  string(0) ""
  ["fld37"]=>
  string(0) ""
  ["fld38"]=>
  string(0) ""
  ["fld39"]=>
  string(0) ""
  ["fld40"]=>
  string(0) ""
  ["image1alt"]=>
  string(36) "Extra uppercase letter stamps X10299"
  ["boolImage1"]=>
  bool(true)
  ["image2alt"]=>
  string(0) ""
  ["boolImage2"]=>
  bool(false)
  ["image3alt"]=>
  string(0) ""
  ["image4alt"]=>
  string(0) ""
  ["image5alt"]=>
  string(0) ""
  ["image6"]=>
  string(0) ""
  ["image6alt"]=>
  string(0) ""
  ["image7"]=>
  string(0) ""
  ["image7alt"]=>
  string(0) ""
  ["image8"]=>
  string(0) ""
  ["image8alt"]=>
  string(0) ""
  ["image9"]=>
  string(0) ""
  ["image9alt"]=>
  string(0) ""
  ["image10"]=>
  string(0) ""
  ["image10alt"]=>
  string(0) ""
  ["pricing"]=>
  string(6) "X10299"
  ["tradePricing"]=>
  string(3) "0.2"
  ["weightGrams"]=>
  string(1) "2"
  ["weightKG"]=>
  string(4) "0.02"
  ["length"]=>
  string(109) "A--1--25---A--6--32---A--12--35---B--1--25---B--3--27---B--6--30---B--12--33---D--1--15---D--3--20---E--1--25"
  ["height"]=>
  string(4) "8.95"
  ["width"]=>
  string(0) ""
}

Origin: USA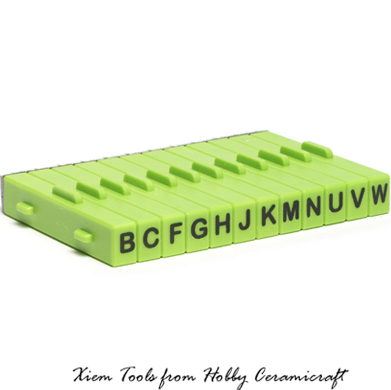 The 12 duplicate uppercase letters which will make up a set of doubles when used with the complete uppercase stamp set.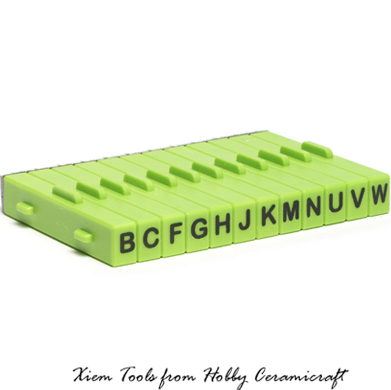 Xiem attachable letters are easy to snap together to form words or phrases--never worry about lining letters up again. Words or phrases can be aligned horizontally or vertically. Great with ink, paint, clay, and underglazes.

This set includes 12 pieces that can be attached/clicked into each other for a straight and precise stamped area.

Also available in full alphabet uppercase letters, aphabet lowercase letters, and numbers. Each letter is 6mm tall.