Seminars
Upcoming Seminars at Hobby Ceramicraft
Silkscreen Projects June 18th - 10am to 2pm
Hosted by Jane.
Two large impressive pieces on simple bisque shapes. Give some basic shapes a new contemporary look, and a quick inexpensive "Keep the Parent busy" project.
Kiln Maintenance July 9th - 10am to 2pm
Hosted by Matt.
What you need to know about the inner workings of your kiln. How to diagnose a fault and how to fix it. Come and be informed. Which are the the most common problems and what can you do to remedy them. Which replacement parts do you need to stock? Information given will be mainly focussed around our Paragon manufactured kilns.
How to Make Clay Ice Creams Friday 22nd June (10am - 2pm)
Hosted by Ele Van Schoor
Join us on 22nd of June for this special TRADE event where Elé will help you create your own Ice Cream cone from clay.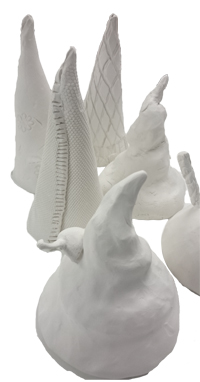 This half day seminar has been developed to show you all the secrets of how these beautiful pieces can be created in a classroom setting. With Elé as a guide, you will see first hand how to make a clay Ice Cream that will never melt, and is almost good enough to eat! Take this knowledge back to your business (along with your beautiful sample!) and run your own fun Summer related workshop.
Elé Van Schoor is the most talented artist and a wonderful teacher of ceramics. We are very lucky to have secured her to teach at one of our events this Summer, as most of her time is taken up teaching at one of the country's most prestigous colleges.
Learn from Elé as she explains in detail the different processes involved, and hear how she has successfully run this session with groups of various ages.
- How are they made?
- Which materials are required?
- How are they decorated?
- How are they fired?
- How long do they take to make?
- Which is the best age group to do this project with?
Our aim for this event is not only for you to leave with the experience of how to make Super-Cool Ceramic Ice Cream, but also with the confidence to believe: "I can easily do and teach this myself!"
Using Ceramic Painting in a Team Building Event September 24th - 10am to 2pm
Hosted by Matt.
Ideas for projects used in corporate Team Building events. Advice on pricing, projects and guidance required for different events.