Frames
Curved Top
MB0994
array(193) {
  ["metaTitle"]=>
  string(75) "Hobby Ceramicraft - Ceramic Bisque - Frames - Curved Top Picture Frame 25cm"
  ["metaDescription"]=>
  string(85) "Ceramics, bisque, pottery supplies and Frames. Curved Top Picture Frame H 25 x W 20cm"
  ["metaKeywords"]=>
  string(0) ""
  ["parentID"]=>
  string(3) "352"
  ["parentIDcrypt"]=>
  string(4) "oama"
  ["parentName"]=>
  string(6) "Frames"
  ["parentType"]=>
  string(6) "bisque"
  ["grandParentType"]=>
  string(10) "bisquepage"
  ["grandParentName"]=>
  string(14) "Ceramic Bisque"
  ["grandParentID"]=>
  string(3) "112"
  ["grandParentIDcrypt"]=>
  string(4) "n6Wa"
  ["boolHasParent"]=>
  bool(true)
  ["boolHasGrandParent"]=>
  bool(true)
  ["page"]=>
  string(0) ""
  ["what"]=>
  string(0) ""
  ["item"]=>
  string(0) ""
  ["idCrypt"]=>
  string(4) "oamb"
  ["date1"]=>
  string(19) "2015-08-25 00:00:00"
  ["date2"]=>
  string(19) "2015-08-25 00:00:00"
  ["date3"]=>
  string(19) "2015-08-25 00:00:00"
  ["date4"]=>
  string(19) "2015-08-25 00:00:00"
  ["date5"]=>
  string(19) "2015-08-25 00:00:00"
  ["radio1"]=>
  string(1) "0"
  ["radio2"]=>
  string(1) "0"
  ["radio3"]=>
  string(1) "0"
  ["radio4"]=>
  string(1) "0"
  ["radio5"]=>
  string(1) "0"
  ["check1"]=>
  string(1) "0"
  ["check2"]=>
  string(1) "0"
  ["check3"]=>
  string(1) "0"
  ["check4"]=>
  string(1) "0"
  ["check5"]=>
  string(1) "0"
  ["select1"]=>
  string(1) "0"
  ["select2"]=>
  string(1) "0"
  ["select3"]=>
  string(1) "0"
  ["select4"]=>
  string(1) "0"
  ["select5"]=>
  string(0) ""
  ["select6"]=>
  string(0) ""
  ["select7"]=>
  string(0) ""
  ["select8"]=>
  string(0) ""
  ["select9"]=>
  string(0) ""
  ["select10"]=>
  string(0) ""
  ["select11"]=>
  string(0) ""
  ["text1"]=>
  string(1990) "


	Soon to be discontinued - we cannot reorder this shape.





	Picture Frame measures 25cm tall by 19.5cm wide.  Accomodates a picture 6 inches by 4 inches.





	 





	To help fire, try using a large stilt like this:





	





	 





	





	Instructions for project shown above:





	

		Begin with MB994 Picture Frame bisque. Moisten a clean sponge and wipe bisque to remove any dust.

	

		Using a Soft Fan, apply 3 coats of FN-001 White to the picture frame.

	

		Once dry, use Clay Carbon Paper to transfer the image on the turtle onto the piece.

	

		Using a Script Liner, apply 1 coat of SC- 52 Toadily Green to the inside squares of the shell, 1 coat of Java Bean to the rest of the shell, and 2 coats of SC-39 Army Surplus to the turtle's body.

	

		Using a Mini Liner, apply 1 coat of SC-51 Poo Bear to the belly and trim of the shell.

	

		Dispense some SC-74 Hot Tamale and SC-89 Cutie Pie Coral into a plate and use a paintbrush to apply to the child's fingertip. Gently press the finger onto the piece and repeat this step with the bottom of the fingerprint connecting the previous one and the top leaning away to form a heart shape. Repeat this as many times as necessary to creat a bunch of heart-shaped balloons.

	

		Using the Mini Liner, apply 1 coat of SC-15 Tuxedo to the outline of the turtle and the strings of the balloons and apply 2 coats of SC-15 Tuxedo to the lettering.

	

		Let dry completley.

	

		Stilt and fire to cone 06.




"
  ["text2"]=>
  string(0) ""
  ["text3"]=>
  string(0) ""
  ["text4"]=>
  string(0) ""
  ["text5"]=>
  string(0) ""
  ["text6"]=>
  string(0) ""
  ["text7"]=>
  string(0) ""
  ["text8"]=>
  string(0) ""
  ["text9"]=>
  string(0) ""
  ["text10"]=>
  string(0) ""
  ["name"]=>
  string(11) "Curved Top "
  ["fld2"]=>
  string(6) "MB0994"
  ["fld3"]=>
  string(6) "MB0994"
  ["fld4"]=>
  string(1) "0"
  ["fld5"]=>
  string(94) "A--1--42.4---A--3--44---A--5--45.86---B--1--35.2---B--3--42.4---D--1--20---D--3--25---E--1--40"
  ["fld6"]=>
  string(5) "51.03"
  ["fld7"]=>
  string(4) "0.00"
  ["fld8"]=>
  string(1) "6"
  ["fld9"]=>
  string(1) "0"
  ["fld10"]=>
  string(0) ""
  ["image1"]=>
  string(11) "mb994rr.jpg"
  ["imageAlt1"]=>
  NULL
  ["image2"]=>
  string(10) "mb994c.jpg"
  ["imageAlt2"]=>
  NULL
  ["image3"]=>
  string(9) "MB994.jpg"
  ["imageAlt3"]=>
  NULL
  ["image4"]=>
  string(0) ""
  ["imageAlt4"]=>
  NULL
  ["image5"]=>
  string(0) ""
  ["imageAlt5"]=>
  NULL
  ["imageCount"]=>
  NULL
  ["URL"]=>
  string(25) "bisque-frames-curved-top-"
  ["id"]=>
  string(3) "353"
  ["boolExists"]=>
  int(1)
  ["parentWhat"]=>
  string(0) ""
  ["parentURL"]=>
  string(13) "bisque-frames"
  ["boolParentEditable"]=>
  string(1) "1"
  ["active"]=>
  string(1) "1"
  ["navItem"]=>
  string(1) "0"
  ["footerItem"]=>
  string(1) "0"
  ["subFooterItem"]=>
  string(1) "0"
  ["boolEditable"]=>
  string(1) "1"
  ["userID"]=>
  NULL
  ["id2"]=>
  int(0)
  ["id3"]=>
  int(0)
  ["commodityCode"]=>
  string(5) "CHINA"
  ["nameLong"]=>
  string(6) "MB0994"
  ["code"]=>
  string(6) "MB0994"
  ["weight"]=>
  string(4) "4.81"
  ["sageCode"]=>
  string(6) "MB0994"
  ["quantity"]=>
  string(1) "0"
  ["price"]=>
  string(5) "51.03"
  ["price2"]=>
  int(0)
  ["price3"]=>
  int(0)
  ["size"]=>
  string(8) "box of 6"
  ["size2"]=>
  int(0)
  ["size3"]=>
  int(0)
  ["boolSize2"]=>
  bool(false)
  ["boolSize3"]=>
  bool(false)
  ["inStockSize1"]=>
  bool(false)
  ["inStockSize2"]=>
  bool(false)
  ["inStockSize3"]=>
  bool(false)
  ["boolDiscounts"]=>
  bool(true)
  ["boolKilns"]=>
  bool(false)
  ["strDiscountString"]=>
  string(94) "A--1--42.4---A--3--44---A--5--45.86---B--1--35.2---B--3--42.4---D--1--20---D--3--25---E--1--40"
  ["date1day"]=>
  string(2) "25"
  ["date1month"]=>
  string(2) "08"
  ["date1year"]=>
  string(4) "2015"
  ["date2day"]=>
  string(2) "25"
  ["date2month"]=>
  string(2) "08"
  ["date2year"]=>
  string(4) "2015"
  ["check6"]=>
  string(1) "0"
  ["check7"]=>
  string(1) "0"
  ["check8"]=>
  string(1) "0"
  ["check9"]=>
  string(1) "0"
  ["check10"]=>
  string(1) "0"
  ["file1"]=>
  string(0) ""
  ["file2"]=>
  string(0) ""
  ["file3"]=>
  string(0) ""
  ["file4"]=>
  string(0) ""
  ["file5"]=>
  string(0) ""
  ["file6"]=>
  string(0) ""
  ["file7"]=>
  string(0) ""
  ["file8"]=>
  string(0) ""
  ["file9"]=>
  string(0) ""
  ["file10"]=>
  string(0) ""
  ["file1label"]=>
  string(0) ""
  ["file2label"]=>
  string(0) ""
  ["file3label"]=>
  string(0) ""
  ["file4label"]=>
  string(0) ""
  ["file5label"]=>
  string(0) ""
  ["file6label"]=>
  string(0) ""
  ["file7label"]=>
  string(0) ""
  ["file8label"]=>
  string(0) ""
  ["file9label"]=>
  string(0) ""
  ["file10label"]=>
  string(0) ""
  ["breadcrumb"]=>
  string(0) ""
  ["fld11"]=>
  string(4) "4.81"
  ["fld12"]=>
  string(0) ""
  ["fld13"]=>
  string(0) ""
  ["fld14"]=>
  string(0) ""
  ["fld15"]=>
  string(0) ""
  ["fld16"]=>
  string(0) ""
  ["fld17"]=>
  string(0) ""
  ["fld18"]=>
  string(0) ""
  ["fld19"]=>
  string(0) ""
  ["fld20"]=>
  string(0) ""
  ["fld21"]=>
  string(5) "CHINA"
  ["fld22"]=>
  string(0) ""
  ["fld23"]=>
  string(0) ""
  ["fld24"]=>
  string(0) ""
  ["fld25"]=>
  string(0) ""
  ["fld26"]=>
  string(0) ""
  ["fld27"]=>
  string(0) ""
  ["fld28"]=>
  string(0) ""
  ["fld29"]=>
  string(0) ""
  ["fld30"]=>
  string(0) ""
  ["fld31"]=>
  string(0) ""
  ["fld32"]=>
  string(0) ""
  ["fld33"]=>
  string(0) ""
  ["fld34"]=>
  string(0) ""
  ["fld35"]=>
  string(0) ""
  ["fld36"]=>
  string(0) ""
  ["fld37"]=>
  string(0) ""
  ["fld38"]=>
  string(0) ""
  ["fld39"]=>
  string(0) ""
  ["fld40"]=>
  string(0) ""
  ["image1alt"]=>
  string(18) "Curved Top  MB0994"
  ["boolImage1"]=>
  bool(true)
  ["image2alt"]=>
  string(18) "MB0994 Curved Top "
  ["image3alt"]=>
  string(6) "MB0994"
  ["image4alt"]=>
  string(0) ""
  ["image5alt"]=>
  string(0) ""
  ["image6"]=>
  string(0) ""
  ["image6alt"]=>
  string(0) ""
  ["image7"]=>
  string(0) ""
  ["image7alt"]=>
  string(0) ""
  ["image8"]=>
  string(0) ""
  ["image8alt"]=>
  string(0) ""
  ["image9"]=>
  string(0) ""
  ["image9alt"]=>
  string(0) ""
  ["image10"]=>
  string(0) ""
  ["image10alt"]=>
  string(0) ""
  ["pricing"]=>
  string(6) "MB0994"
  ["tradePricing"]=>
  string(4) "4.81"
  ["weightGrams"]=>
  string(1) "0"
  ["weightKG"]=>
  string(4) "0.00"
  ["length"]=>
  string(94) "A--1--42.4---A--3--44---A--5--45.86---B--1--35.2---B--3--42.4---D--1--20---D--3--25---E--1--40"
  ["height"]=>
  string(5) "51.03"
  ["width"]=>
  string(4) "0.00"
}

£51.03 per box of 6
(temporarily out of stock)
Stock Available:
box of 6 = 0
Origin: CHINA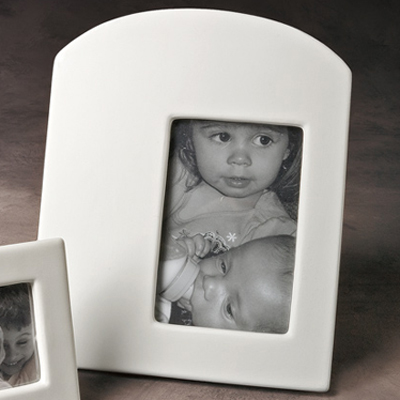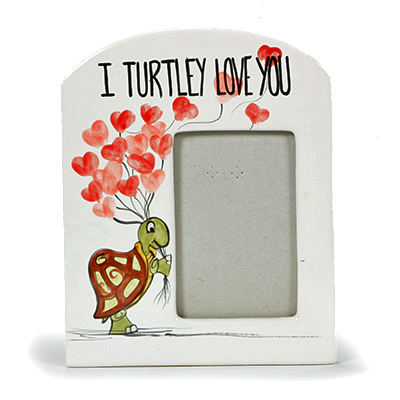 Soon to be discontinued - we cannot reorder this shape.
Picture Frame measures 25cm tall by 19.5cm wide. Accomodates a picture 6 inches by 4 inches.
To help fire, try using a large stilt like this: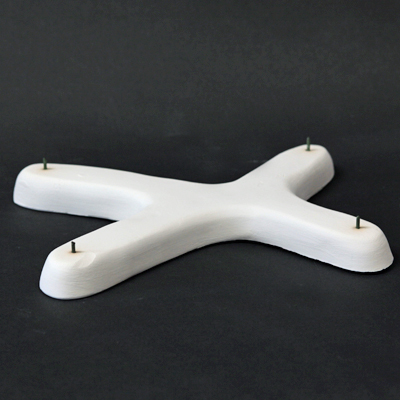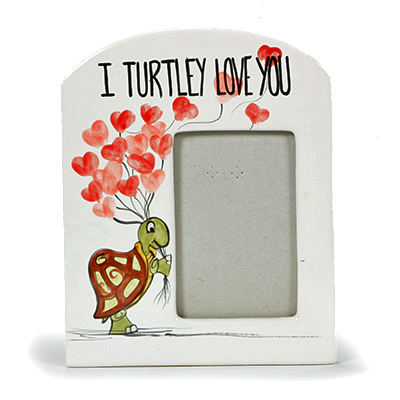 Instructions for project shown above:
Begin with MB994 Picture Frame bisque. Moisten a clean sponge and wipe bisque to remove any dust.
Using a Soft Fan, apply 3 coats of FN-001 White to the picture frame.
Once dry, use Clay Carbon Paper to transfer the image on the turtle onto the piece.
Using a Script Liner, apply 1 coat of SC- 52 Toadily Green to the inside squares of the shell, 1 coat of Java Bean to the rest of the shell, and 2 coats of SC-39 Army Surplus to the turtle's body.
Using a Mini Liner, apply 1 coat of SC-51 Poo Bear to the belly and trim of the shell.
Dispense some SC-74 Hot Tamale and SC-89 Cutie Pie Coral into a plate and use a paintbrush to apply to the child's fingertip. Gently press the finger onto the piece and repeat this step with the bottom of the fingerprint connecting the previous one and the top leaning away to form a heart shape. Repeat this as many times as necessary to creat a bunch of heart-shaped balloons.
Using the Mini Liner, apply 1 coat of SC-15 Tuxedo to the outline of the turtle and the strings of the balloons and apply 2 coats of SC-15 Tuxedo to the lettering.
Let dry completley.
Stilt and fire to cone 06.