Jugs
Tall Pitcher 32cm x 17cm
MB1334
array(193) {
  ["metaTitle"]=>
  string(44) "Hobby Ceramicraft - Tall Pitcher 32cm x 17cm"
  ["metaDescription"]=>
  string(73) "Ceramics, bisque, pottery supplies and Jugs. Tall Pitcher 32cm x 17cm
"
  ["metaKeywords"]=>
  string(0) ""
  ["parentID"]=>
  string(3) "356"
  ["parentIDcrypt"]=>
  string(4) "oame"
  ["parentName"]=>
  string(4) "Jugs"
  ["parentType"]=>
  string(6) "bisque"
  ["grandParentType"]=>
  string(10) "bisquepage"
  ["grandParentName"]=>
  string(14) "Ceramic Bisque"
  ["grandParentID"]=>
  string(3) "112"
  ["grandParentIDcrypt"]=>
  string(4) "n6Wa"
  ["boolHasParent"]=>
  bool(true)
  ["boolHasGrandParent"]=>
  bool(true)
  ["page"]=>
  string(0) ""
  ["what"]=>
  string(0) ""
  ["item"]=>
  string(0) ""
  ["idCrypt"]=>
  string(4) "oaqf"
  ["date1"]=>
  string(19) "2016-10-21 00:00:00"
  ["date2"]=>
  string(19) "2016-10-21 00:00:00"
  ["date3"]=>
  string(19) "2016-10-21 00:00:00"
  ["date4"]=>
  string(19) "2016-10-21 00:00:00"
  ["date5"]=>
  string(19) "2016-10-21 00:00:00"
  ["radio1"]=>
  string(1) "0"
  ["radio2"]=>
  string(1) "0"
  ["radio3"]=>
  string(1) "0"
  ["radio4"]=>
  string(1) "0"
  ["radio5"]=>
  string(1) "0"
  ["check1"]=>
  string(1) "0"
  ["check2"]=>
  string(1) "0"
  ["check3"]=>
  string(1) "0"
  ["check4"]=>
  string(1) "0"
  ["check5"]=>
  string(1) "0"
  ["select1"]=>
  string(1) "0"
  ["select2"]=>
  string(1) "0"
  ["select3"]=>
  string(1) "0"
  ["select4"]=>
  string(1) "0"
  ["select5"]=>
  string(0) ""
  ["select6"]=>
  string(0) ""
  ["select7"]=>
  string(0) ""
  ["select8"]=>
  string(0) ""
  ["select9"]=>
  string(0) ""
  ["select10"]=>
  string(0) ""
  ["select11"]=>
  string(0) ""
  ["text1"]=>
  string(396) "


	We are making these onsite.  If out of stock please click the "Email me when back in stock" button above and we will make especially for you.





	 





	Now six in a case for safer delivery.





	 





	White Earthenware Unglazed Bisque Jug measures 32cm tall by 17cm wide.


"
  ["text2"]=>
  string(0) ""
  ["text3"]=>
  string(0) ""
  ["text4"]=>
  string(0) ""
  ["text5"]=>
  string(0) ""
  ["text6"]=>
  string(0) ""
  ["text7"]=>
  string(0) ""
  ["text8"]=>
  string(0) ""
  ["text9"]=>
  string(0) ""
  ["text10"]=>
  string(0) ""
  ["name"]=>
  string(24) "Tall Pitcher 32cm x 17cm"
  ["fld2"]=>
  string(6) "MB1334"
  ["fld3"]=>
  string(6) "MB1334"
  ["fld4"]=>
  string(1) "0"
  ["fld5"]=>
  string(94) "A--1--42.4---A--3--44---A--5--45.86---B--1--35.2---B--3--42.4---D--1--20---D--3--25---E--1--40"
  ["fld6"]=>
  string(5) "29.83"
  ["fld7"]=>
  string(0) ""
  ["fld8"]=>
  string(1) "3"
  ["fld9"]=>
  string(1) "0"
  ["fld10"]=>
  string(3) "020"
  ["image1"]=>
  string(11) "MB1334w.jpg"
  ["imageAlt1"]=>
  NULL
  ["image2"]=>
  string(10) "MB1334.jpg"
  ["imageAlt2"]=>
  NULL
  ["image3"]=>
  string(0) ""
  ["imageAlt3"]=>
  NULL
  ["image4"]=>
  string(0) ""
  ["imageAlt4"]=>
  NULL
  ["image5"]=>
  string(0) ""
  ["imageAlt5"]=>
  NULL
  ["imageCount"]=>
  NULL
  ["URL"]=>
  string(36) "bisque-jugs-tall-pitcher-32cm-x-17cm"
  ["id"]=>
  string(3) "367"
  ["boolExists"]=>
  int(1)
  ["parentWhat"]=>
  string(0) ""
  ["parentURL"]=>
  string(11) "bisque-jugs"
  ["boolParentEditable"]=>
  string(1) "1"
  ["active"]=>
  string(1) "1"
  ["navItem"]=>
  string(1) "0"
  ["footerItem"]=>
  string(1) "0"
  ["subFooterItem"]=>
  string(1) "0"
  ["boolEditable"]=>
  string(1) "1"
  ["userID"]=>
  NULL
  ["id2"]=>
  int(0)
  ["id3"]=>
  int(0)
  ["commodityCode"]=>
  string(3) "USA"
  ["nameLong"]=>
  string(6) "MB1334"
  ["code"]=>
  string(6) "MB1334"
  ["weight"]=>
  string(1) "7"
  ["sageCode"]=>
  string(6) "MB1334"
  ["quantity"]=>
  string(1) "0"
  ["price"]=>
  string(5) "29.83"
  ["price2"]=>
  int(0)
  ["price3"]=>
  int(0)
  ["size"]=>
  string(8) "box of 3"
  ["size2"]=>
  int(0)
  ["size3"]=>
  int(0)
  ["boolSize2"]=>
  bool(false)
  ["boolSize3"]=>
  bool(false)
  ["inStockSize1"]=>
  bool(false)
  ["inStockSize2"]=>
  bool(false)
  ["inStockSize3"]=>
  bool(false)
  ["boolDiscounts"]=>
  bool(true)
  ["boolKilns"]=>
  bool(false)
  ["strDiscountString"]=>
  string(94) "A--1--42.4---A--3--44---A--5--45.86---B--1--35.2---B--3--42.4---D--1--20---D--3--25---E--1--40"
  ["date1day"]=>
  string(2) "21"
  ["date1month"]=>
  string(2) "10"
  ["date1year"]=>
  string(4) "2016"
  ["date2day"]=>
  string(2) "21"
  ["date2month"]=>
  string(2) "10"
  ["date2year"]=>
  string(4) "2016"
  ["check6"]=>
  string(1) "0"
  ["check7"]=>
  string(1) "0"
  ["check8"]=>
  string(1) "0"
  ["check9"]=>
  string(1) "0"
  ["check10"]=>
  string(1) "0"
  ["file1"]=>
  string(0) ""
  ["file2"]=>
  string(0) ""
  ["file3"]=>
  string(0) ""
  ["file4"]=>
  string(0) ""
  ["file5"]=>
  string(0) ""
  ["file6"]=>
  string(0) ""
  ["file7"]=>
  string(0) ""
  ["file8"]=>
  string(0) ""
  ["file9"]=>
  string(0) ""
  ["file10"]=>
  string(0) ""
  ["file1label"]=>
  string(0) ""
  ["file2label"]=>
  string(0) ""
  ["file3label"]=>
  string(0) ""
  ["file4label"]=>
  string(0) ""
  ["file5label"]=>
  string(0) ""
  ["file6label"]=>
  string(0) ""
  ["file7label"]=>
  string(0) ""
  ["file8label"]=>
  string(0) ""
  ["file9label"]=>
  string(0) ""
  ["file10label"]=>
  string(0) ""
  ["breadcrumb"]=>
  string(0) ""
  ["fld11"]=>
  string(1) "7"
  ["fld12"]=>
  string(0) ""
  ["fld13"]=>
  string(0) ""
  ["fld14"]=>
  string(0) ""
  ["fld15"]=>
  string(0) ""
  ["fld16"]=>
  string(0) ""
  ["fld17"]=>
  string(0) ""
  ["fld18"]=>
  string(0) ""
  ["fld19"]=>
  string(0) ""
  ["fld20"]=>
  string(0) ""
  ["fld21"]=>
  string(3) "USA"
  ["fld22"]=>
  string(0) ""
  ["fld23"]=>
  string(0) ""
  ["fld24"]=>
  string(0) ""
  ["fld25"]=>
  string(0) ""
  ["fld26"]=>
  string(0) ""
  ["fld27"]=>
  string(0) ""
  ["fld28"]=>
  string(0) ""
  ["fld29"]=>
  string(0) ""
  ["fld30"]=>
  string(0) ""
  ["fld31"]=>
  string(0) ""
  ["fld32"]=>
  string(0) ""
  ["fld33"]=>
  string(0) ""
  ["fld34"]=>
  string(0) ""
  ["fld35"]=>
  string(0) ""
  ["fld36"]=>
  string(0) ""
  ["fld37"]=>
  string(0) ""
  ["fld38"]=>
  string(0) ""
  ["fld39"]=>
  string(0) ""
  ["fld40"]=>
  string(0) ""
  ["image1alt"]=>
  string(31) "Tall Pitcher 32cm x 17cm MB1334"
  ["boolImage1"]=>
  bool(true)
  ["image2alt"]=>
  string(31) "MB1334 Tall Pitcher 32cm x 17cm"
  ["image3alt"]=>
  string(0) ""
  ["image4alt"]=>
  string(0) ""
  ["image5alt"]=>
  string(0) ""
  ["image6"]=>
  string(0) ""
  ["image6alt"]=>
  string(0) ""
  ["image7"]=>
  string(0) ""
  ["image7alt"]=>
  string(0) ""
  ["image8"]=>
  string(0) ""
  ["image8alt"]=>
  string(0) ""
  ["image9"]=>
  string(0) ""
  ["image9alt"]=>
  string(0) ""
  ["image10"]=>
  string(0) ""
  ["image10alt"]=>
  string(0) ""
  ["pricing"]=>
  string(6) "MB1334"
  ["tradePricing"]=>
  string(1) "7"
  ["weightGrams"]=>
  string(1) "0"
  ["weightKG"]=>
  string(4) "0.00"
  ["length"]=>
  string(94) "A--1--42.4---A--3--44---A--5--45.86---B--1--35.2---B--3--42.4---D--1--20---D--3--25---E--1--40"
  ["height"]=>
  string(5) "29.83"
  ["width"]=>
  string(0) ""
}

£29.83 per box of 3
(temporarily out of stock)
Stock Available:
box of 3 = 0
Origin: USA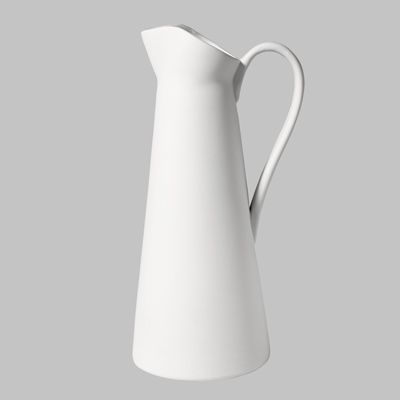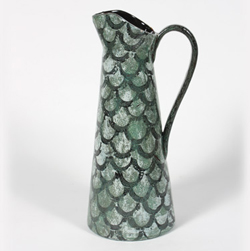 We are making these onsite. If out of stock please click the "Email me when back in stock" button above and we will make especially for you.
Now six in a case for safer delivery.
White Earthenware Unglazed Bisque Jug measures 32cm tall by 17cm wide.