Money Banks
Chubby Alligator bank
MB1454
array(193) {
  ["metaTitle"]=>
  string(34) "Chubby alligator money bank bisque"
  ["metaDescription"]=>
  string(45) "Chubby roly poly alligator bisque from Mayco."
  ["metaKeywords"]=>
  string(0) ""
  ["parentID"]=>
  string(4) "1330"
  ["parentIDcrypt"]=>
  string(8) "n6eblQ=="
  ["parentName"]=>
  string(11) "Money Banks"
  ["parentType"]=>
  string(6) "bisque"
  ["grandParentType"]=>
  string(10) "bisquepage"
  ["grandParentName"]=>
  string(14) "Ceramic Bisque"
  ["grandParentID"]=>
  string(3) "112"
  ["grandParentIDcrypt"]=>
  string(4) "n6Wa"
  ["boolHasParent"]=>
  bool(true)
  ["boolHasGrandParent"]=>
  bool(true)
  ["page"]=>
  string(0) ""
  ["what"]=>
  string(0) ""
  ["item"]=>
  string(0) ""
  ["idCrypt"]=>
  string(8) "o6uZnpI="
  ["date1"]=>
  string(19) "2016-04-11 00:00:00"
  ["date2"]=>
  string(19) "2016-04-11 00:00:00"
  ["date3"]=>
  string(19) "2016-04-11 00:00:00"
  ["date4"]=>
  string(19) "2016-04-11 00:00:00"
  ["date5"]=>
  string(19) "2016-04-11 00:00:00"
  ["radio1"]=>
  string(1) "0"
  ["radio2"]=>
  string(1) "0"
  ["radio3"]=>
  string(1) "0"
  ["radio4"]=>
  string(1) "0"
  ["radio5"]=>
  string(1) "0"
  ["check1"]=>
  string(1) "0"
  ["check2"]=>
  string(1) "0"
  ["check3"]=>
  string(1) "0"
  ["check4"]=>
  string(1) "0"
  ["check5"]=>
  string(1) "0"
  ["select1"]=>
  string(1) "0"
  ["select2"]=>
  string(1) "0"
  ["select3"]=>
  string(1) "0"
  ["select4"]=>
  string(0) ""
  ["select5"]=>
  string(0) ""
  ["select6"]=>
  string(0) ""
  ["select7"]=>
  string(0) ""
  ["select8"]=>
  string(0) ""
  ["select9"]=>
  string(0) ""
  ["select10"]=>
  string(0) ""
  ["select11"]=>
  string(0) ""
  ["text1"]=>
  string(2718) "


	31cm long x 11.5cm tall x 14.7cm wide.





	 





	





	


		 


	


		 


	


		 


	


		Products Used:


	


		 


	


		Bisque


	


		

			

MB-1454 Roly-Poly Alligator Bank


	


	


		 


	


		Colours


	
	
	


		 


	


		 








	


		


			


		


			 


		


			 


	








	 





	Instructions





	

		Remove dust with a damp sponge.

	

		Use SG-401 Black Designer Liner to outline the lines on the back, the mouth line and around the teeth of the alligator.

	

		Using a Soft fan, brush two coats of CG-717 Pistachio over the body of the alligator, omit the belly and the lower mouth.  Make sure to stir the crystals into the glaze.

	

		Brush two coats of CG-795 Yadro Print to the remaining sections of the alligator, overlay the Pistachio.

	

		Clean off the excess glaze from the eyes and teeth. Brush two coats of SC-16 Cotton Tail to the eyes, and teeth.

	

		Brush the iris with two thinned coats of SC-26 Green Thumb and the pupil with SC-15 Tuxedo, outline the eye with SC-15 Tuxedo.

	

		Fire to cone 06.




"
  ["text2"]=>
  string(0) ""
  ["text3"]=>
  string(0) ""
  ["text4"]=>
  string(0) ""
  ["text5"]=>
  string(0) ""
  ["text6"]=>
  string(0) ""
  ["text7"]=>
  string(0) ""
  ["text8"]=>
  string(0) ""
  ["text9"]=>
  string(0) ""
  ["text10"]=>
  string(0) ""
  ["name"]=>
  string(21) "Chubby Alligator bank"
  ["fld2"]=>
  string(6) "MB1454"
  ["fld3"]=>
  string(6) "MB1454"
  ["fld4"]=>
  string(2) "17"
  ["fld5"]=>
  string(94) "A--1--42.4---A--3--44---A--5--45.86---B--1--35.2---B--3--42.4---D--1--20---D--3--25---E--1--40"
  ["fld6"]=>
  string(5) "61.51"
  ["fld7"]=>
  string(0) ""
  ["fld8"]=>
  string(1) "6"
  ["fld9"]=>
  string(0) ""
  ["fld10"]=>
  string(0) ""
  ["image1"]=>
  string(35) "MB1454_Roly_Poly_Alligator_Bank.jpg"
  ["imageAlt1"]=>
  NULL
  ["image2"]=>
  string(25) "415.Crystal_Alligator.jpg"
  ["imageAlt2"]=>
  NULL
  ["image3"]=>
  string(29) "alligator_painted_closeup.jpg"
  ["imageAlt3"]=>
  NULL
  ["image4"]=>
  string(0) ""
  ["imageAlt4"]=>
  NULL
  ["image5"]=>
  string(0) ""
  ["imageAlt5"]=>
  NULL
  ["imageCount"]=>
  NULL
  ["URL"]=>
  string(40) "bisque-money-banks-chubby-alligator-bank"
  ["id"]=>
  string(5) "57191"
  ["boolExists"]=>
  int(1)
  ["parentWhat"]=>
  string(0) ""
  ["parentURL"]=>
  string(18) "bisque-money-banks"
  ["boolParentEditable"]=>
  string(1) "1"
  ["active"]=>
  string(1) "1"
  ["navItem"]=>
  string(1) "0"
  ["footerItem"]=>
  string(1) "0"
  ["subFooterItem"]=>
  string(1) "0"
  ["boolEditable"]=>
  string(1) "1"
  ["userID"]=>
  NULL
  ["id2"]=>
  int(0)
  ["id3"]=>
  int(0)
  ["commodityCode"]=>
  string(5) "CHINA"
  ["nameLong"]=>
  string(6) "MB1454"
  ["code"]=>
  string(6) "MB1454"
  ["weight"]=>
  string(1) "5"
  ["sageCode"]=>
  string(6) "MB1454"
  ["quantity"]=>
  string(2) "17"
  ["price"]=>
  string(5) "61.51"
  ["price2"]=>
  int(0)
  ["price3"]=>
  int(0)
  ["size"]=>
  string(8) "box of 6"
  ["size2"]=>
  int(0)
  ["size3"]=>
  int(0)
  ["boolSize2"]=>
  bool(false)
  ["boolSize3"]=>
  bool(false)
  ["inStockSize1"]=>
  bool(true)
  ["inStockSize2"]=>
  bool(false)
  ["inStockSize3"]=>
  bool(false)
  ["boolDiscounts"]=>
  bool(true)
  ["boolKilns"]=>
  bool(false)
  ["strDiscountString"]=>
  string(94) "A--1--42.4---A--3--44---A--5--45.86---B--1--35.2---B--3--42.4---D--1--20---D--3--25---E--1--40"
  ["date1day"]=>
  string(2) "11"
  ["date1month"]=>
  string(2) "04"
  ["date1year"]=>
  string(4) "2016"
  ["date2day"]=>
  string(2) "11"
  ["date2month"]=>
  string(2) "04"
  ["date2year"]=>
  string(4) "2016"
  ["check6"]=>
  string(1) "0"
  ["check7"]=>
  string(1) "0"
  ["check8"]=>
  string(1) "0"
  ["check9"]=>
  string(1) "0"
  ["check10"]=>
  string(1) "0"
  ["file1"]=>
  string(0) ""
  ["file2"]=>
  string(0) ""
  ["file3"]=>
  string(0) ""
  ["file4"]=>
  string(0) ""
  ["file5"]=>
  string(0) ""
  ["file6"]=>
  string(0) ""
  ["file7"]=>
  string(0) ""
  ["file8"]=>
  string(0) ""
  ["file9"]=>
  string(0) ""
  ["file10"]=>
  string(0) ""
  ["file1label"]=>
  string(0) ""
  ["file2label"]=>
  string(0) ""
  ["file3label"]=>
  string(0) ""
  ["file4label"]=>
  string(0) ""
  ["file5label"]=>
  string(0) ""
  ["file6label"]=>
  string(0) ""
  ["file7label"]=>
  string(0) ""
  ["file8label"]=>
  string(0) ""
  ["file9label"]=>
  string(0) ""
  ["file10label"]=>
  string(0) ""
  ["breadcrumb"]=>
  string(0) ""
  ["fld11"]=>
  string(1) "5"
  ["fld12"]=>
  string(0) ""
  ["fld13"]=>
  string(0) ""
  ["fld14"]=>
  string(0) ""
  ["fld15"]=>
  string(0) ""
  ["fld16"]=>
  string(0) ""
  ["fld17"]=>
  string(0) ""
  ["fld18"]=>
  string(0) ""
  ["fld19"]=>
  string(0) ""
  ["fld20"]=>
  string(0) ""
  ["fld21"]=>
  string(5) "CHINA"
  ["fld22"]=>
  string(0) ""
  ["fld23"]=>
  string(0) ""
  ["fld24"]=>
  string(0) ""
  ["fld25"]=>
  string(0) ""
  ["fld26"]=>
  string(0) ""
  ["fld27"]=>
  string(0) ""
  ["fld28"]=>
  string(0) ""
  ["fld29"]=>
  string(0) ""
  ["fld30"]=>
  string(0) ""
  ["fld31"]=>
  string(0) ""
  ["fld32"]=>
  string(0) ""
  ["fld33"]=>
  string(0) ""
  ["fld34"]=>
  string(0) ""
  ["fld35"]=>
  string(0) ""
  ["fld36"]=>
  string(0) ""
  ["fld37"]=>
  string(0) ""
  ["fld38"]=>
  string(0) ""
  ["fld39"]=>
  string(0) ""
  ["fld40"]=>
  string(0) ""
  ["image1alt"]=>
  string(28) "Chubby Alligator bank MB1454"
  ["boolImage1"]=>
  bool(true)
  ["image2alt"]=>
  string(28) "MB1454 Chubby Alligator bank"
  ["image3alt"]=>
  string(6) "MB1454"
  ["image4alt"]=>
  string(0) ""
  ["image5alt"]=>
  string(0) ""
  ["image6"]=>
  string(0) ""
  ["image6alt"]=>
  string(0) ""
  ["image7"]=>
  string(0) ""
  ["image7alt"]=>
  string(0) ""
  ["image8"]=>
  string(0) ""
  ["image8alt"]=>
  string(0) ""
  ["image9"]=>
  string(0) ""
  ["image9alt"]=>
  string(0) ""
  ["image10"]=>
  string(0) ""
  ["image10alt"]=>
  string(0) ""
  ["pricing"]=>
  string(6) "MB1454"
  ["tradePricing"]=>
  string(1) "5"
  ["weightGrams"]=>
  string(2) "17"
  ["weightKG"]=>
  string(4) "0.17"
  ["length"]=>
  string(94) "A--1--42.4---A--3--44---A--5--45.86---B--1--35.2---B--3--42.4---D--1--20---D--3--25---E--1--40"
  ["height"]=>
  string(5) "61.51"
  ["width"]=>
  string(0) ""
}

£61.51 per box of 6
Stock Available:
box of 6 = 17
Origin: CHINA
31cm long x 11.5cm tall x 14.7cm wide.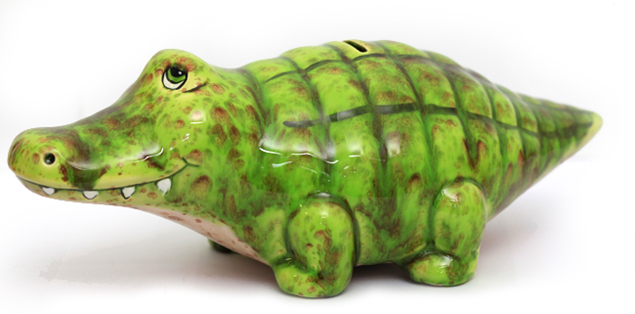 Products Used:
Bisque
MB-1454 Roly-Poly Alligator Bank
Colours
Instructions
Remove dust with a damp sponge.
Use SG-401 Black Designer Liner to outline the lines on the back, the mouth line and around the teeth of the alligator.
Using a Soft fan, brush two coats of CG-717 Pistachio over the body of the alligator, omit the belly and the lower mouth. Make sure to stir the crystals into the glaze.
Brush two coats of CG-795 Yadro Print to the remaining sections of the alligator, overlay the Pistachio.
Clean off the excess glaze from the eyes and teeth. Brush two coats of SC-16 Cotton Tail to the eyes, and teeth.
Brush the iris with two thinned coats of SC-26 Green Thumb and the pupil with SC-15 Tuxedo, outline the eye with SC-15 Tuxedo.
Fire to cone 06.