Dolphin Mug
Products Used:
Bisque
Colour
FN-011 Light Blue, FN-041 Medium Blue, SC-15 Tuxedo, SC-16 Cotton Tail, SC-60 Silver Lining, SG-404 Blue, Clear Brushing glaze
Decorating Accessories
CLC1 Clay Carbon Paper, BT-910 Synthetic Sponge
Miscellaneous Accessories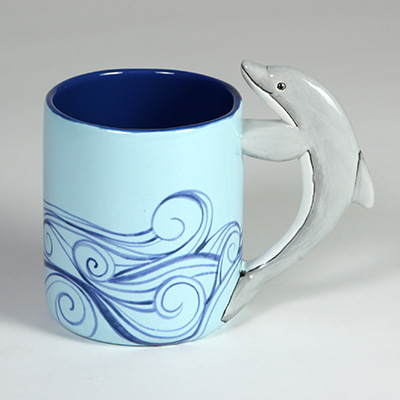 Instructions
Moisten a clean sponge and wipe bisque to remove any dust.
Apply 3 coats of FN-011 Light Blue to the outside of the mug.
Once the glaze is comepletley dry, use AC-230 Clay Carbon Paper to transfer the design onto the mug.
Using SG-404 Blue Designer Liner, go over the traced design.
Using a Liner brush, apply 2 coats of SC-16 Cotton Tail to the belly of the dolphin.
Next, apply 3 coats of SC-60 Silver Lining to the rest of the dolphin.
Apply 1 coat of SC-15 Tuxedo to the lines on the dolphin.
Apply 3 coats of FN-041 Medium Blue to the inside of the mug.
Be sure the waves are completley dry, then apply clear glaze over them.
Let dry completely.
Stilt and fire to shelf cone 06.