Flamingo Mug
Products Used:
Bisque
Colour
FN-43 Bright Jade
SC-2 Melon-choly
SC-15 Tuxedo
SC-16 Cotton Tail
SC-88 Tu Tu Tango
Miscellaneous Accessories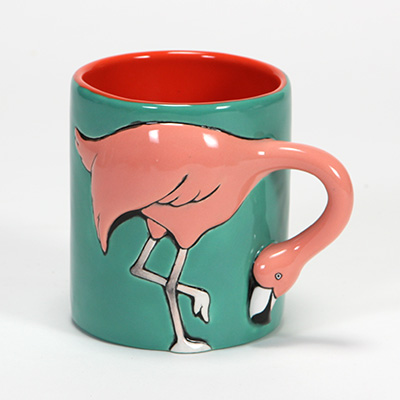 Instructions
Moisten a clean sponge and wipe bisque to remove any dust.
Using a combination of soft Fan and Script Liner, apply three coats of FN-043 Bright Jade to the outside of the mug.
Using a Liner brush apply three coats of SC-2 Melon-choly to the flamingo's body.
Using Detail Liner brush apply two coats of SC-16 Cotton Tail to the beak and legs.
Using a small Liner brush apply one coat of SC-15 Tuxedo to the outline and detail on the beak.
Use a Soft Fan to apply three coats of SC-88 Tu Tu Tango to the inside of the mug.
Let dry completely.
Stilt and fire to shelf cone 06.