Animals
Dog Faceted
MB1516
array(193) {
  ["metaTitle"]=>
  string(18) "Faceted Dog Bisque"
  ["metaDescription"]=>
  string(46) "Ceramic bisque of a Faceted Dog made by Mayco."
  ["metaKeywords"]=>
  string(0) ""
  ["parentID"]=>
  string(3) "819"
  ["parentIDcrypt"]=>
  string(4) "pqWh"
  ["parentName"]=>
  string(7) "Animals"
  ["parentType"]=>
  string(6) "bisque"
  ["grandParentType"]=>
  string(10) "bisquepage"
  ["grandParentName"]=>
  string(14) "Ceramic Bisque"
  ["grandParentID"]=>
  string(3) "112"
  ["grandParentIDcrypt"]=>
  string(4) "n6Wa"
  ["boolHasParent"]=>
  bool(true)
  ["boolHasGrandParent"]=>
  bool(true)
  ["page"]=>
  string(0) ""
  ["what"]=>
  string(0) ""
  ["item"]=>
  string(0) ""
  ["idCrypt"]=>
  string(8) "o6yYnpY="
  ["date1"]=>
  string(19) "2018-03-29 00:00:00"
  ["date2"]=>
  string(19) "2018-03-29 00:00:00"
  ["date3"]=>
  string(19) "2018-03-29 00:00:00"
  ["date4"]=>
  string(19) "2018-03-29 00:00:00"
  ["date5"]=>
  string(19) "2018-03-29 00:00:00"
  ["radio1"]=>
  string(1) "0"
  ["radio2"]=>
  string(1) "0"
  ["radio3"]=>
  string(1) "0"
  ["radio4"]=>
  string(1) "0"
  ["radio5"]=>
  string(1) "0"
  ["check1"]=>
  string(1) "0"
  ["check2"]=>
  string(1) "0"
  ["check3"]=>
  string(1) "0"
  ["check4"]=>
  string(1) "0"
  ["check5"]=>
  string(1) "0"
  ["select1"]=>
  string(1) "0"
  ["select2"]=>
  string(1) "0"
  ["select3"]=>
  string(1) "0"
  ["select4"]=>
  string(0) ""
  ["select5"]=>
  string(0) ""
  ["select6"]=>
  string(0) ""
  ["select7"]=>
  string(0) ""
  ["select8"]=>
  string(0) ""
  ["select9"]=>
  string(0) ""
  ["select10"]=>
  string(0) ""
  ["select11"]=>
  string(0) ""
  ["text1"]=>
  string(2667) "


	Faceted Dog measures 24cm tall by 14.5cm long.





	 





	


		Products Used


	Bisque
	
	Colour
	


		

			

SC-15 Tuxedo


		

			

SC-30 Blue Dawn


		

			

SC-41 Brown Cow


		

			

SC-65 Peri-twinkle


		

			

SG-401 Black


		

			

Clear Dipping Glaze


	


	


		Decorating Accessories


	


		

			

CB-110 #10/0 Liner


		

			

CB-604 #4 Soft Fan


	


	


		Miscellaneous Accessories


	


		

			

Sponge


		

			

Circle Template


		

			

Ruler (optional)


	


	


		 








	


		


			


		


			 


		


			 


	








	 





	Instructions





	1. Begin with properly fired shelf cone 04 Bisque.  Moisten a clean sponge and wipe bisque to remove dust.





	2. Use a dry sponge to apply one coat of SC-65 Peri-twinkle to various areas of the dog.  Follow up with a sponged coat of SC-30 Blue Dawn over the Per-twinkle. Sponge Blue Dawn more sparingly, so you can still see Peri-twinkle.





	3. Sponge one coat of SC-41 Brown Cow onto the dog, overlapping the blue.  Be sure to leave bisque showing on parts of the dog so it will fire white.





	4. Outline the facets of the dog with SG-401 Black.  You may wish to use a ruler to keep the lines straight.





	5. Use a circle template to pencil in the dog's eyes.  Use the Liner to apply two coats of SC-41 Brown Cow to the iris.  Apply two coats of SC-15 Tuxedo to the nose and pupil.





	6. Dip into Clear Dipping Glaze. 





	7. Fire to cone 05/06.


"
  ["text2"]=>
  string(0) ""
  ["text3"]=>
  string(0) ""
  ["text4"]=>
  string(0) ""
  ["text5"]=>
  string(0) ""
  ["text6"]=>
  string(0) ""
  ["text7"]=>
  string(0) ""
  ["text8"]=>
  string(0) ""
  ["text9"]=>
  string(0) ""
  ["text10"]=>
  string(0) ""
  ["name"]=>
  string(11) "Dog Faceted"
  ["fld2"]=>
  string(6) "MB1516"
  ["fld3"]=>
  string(6) "MB1516"
  ["fld4"]=>
  string(1) "0"
  ["fld5"]=>
  string(94) "A--1--42.4---A--3--44---A--5--45.86---B--1--35.2---B--3--42.4---D--1--20---D--3--25---E--1--40"
  ["fld6"]=>
  string(5) "38.55"
  ["fld7"]=>
  string(0) ""
  ["fld8"]=>
  string(1) "4"
  ["fld9"]=>
  string(0) ""
  ["fld10"]=>
  string(4) "1300"
  ["image1"]=>
  string(41) "mb1516_Faceted_Dog_lr-1624-650-650-80.jpg"
  ["imageAlt1"]=>
  NULL
  ["image2"]=>
  string(20) "denim_wash_dogsm.jpg"
  ["imageAlt2"]=>
  NULL
  ["image3"]=>
  string(0) ""
  ["imageAlt3"]=>
  NULL
  ["image4"]=>
  string(0) ""
  ["imageAlt4"]=>
  NULL
  ["image5"]=>
  string(0) ""
  ["imageAlt5"]=>
  NULL
  ["imageCount"]=>
  NULL
  ["URL"]=>
  string(34) "ceramic-bisque-animals-dog-faceted"
  ["id"]=>
  string(5) "58095"
  ["boolExists"]=>
  int(1)
  ["parentWhat"]=>
  string(0) ""
  ["parentURL"]=>
  string(14) "bisque-animals"
  ["boolParentEditable"]=>
  string(1) "1"
  ["active"]=>
  string(1) "1"
  ["navItem"]=>
  string(1) "0"
  ["footerItem"]=>
  string(1) "0"
  ["subFooterItem"]=>
  string(1) "0"
  ["boolEditable"]=>
  string(1) "1"
  ["userID"]=>
  NULL
  ["id2"]=>
  int(0)
  ["id3"]=>
  int(0)
  ["commodityCode"]=>
  string(12) "CHINA OR USA"
  ["nameLong"]=>
  string(6) "MB1516"
  ["code"]=>
  string(6) "MB1516"
  ["weight"]=>
  string(1) "4"
  ["sageCode"]=>
  string(6) "MB1516"
  ["quantity"]=>
  string(1) "0"
  ["price"]=>
  string(5) "38.55"
  ["price2"]=>
  int(0)
  ["price3"]=>
  int(0)
  ["size"]=>
  string(8) "box of 4"
  ["size2"]=>
  int(0)
  ["size3"]=>
  int(0)
  ["boolSize2"]=>
  bool(false)
  ["boolSize3"]=>
  bool(false)
  ["inStockSize1"]=>
  bool(false)
  ["inStockSize2"]=>
  bool(false)
  ["inStockSize3"]=>
  bool(false)
  ["boolDiscounts"]=>
  bool(true)
  ["boolKilns"]=>
  bool(false)
  ["strDiscountString"]=>
  string(94) "A--1--42.4---A--3--44---A--5--45.86---B--1--35.2---B--3--42.4---D--1--20---D--3--25---E--1--40"
  ["date1day"]=>
  string(2) "29"
  ["date1month"]=>
  string(2) "03"
  ["date1year"]=>
  string(4) "2018"
  ["date2day"]=>
  string(2) "29"
  ["date2month"]=>
  string(2) "03"
  ["date2year"]=>
  string(4) "2018"
  ["check6"]=>
  string(1) "0"
  ["check7"]=>
  string(1) "0"
  ["check8"]=>
  string(1) "0"
  ["check9"]=>
  string(1) "0"
  ["check10"]=>
  string(1) "0"
  ["file1"]=>
  string(0) ""
  ["file2"]=>
  string(0) ""
  ["file3"]=>
  string(0) ""
  ["file4"]=>
  string(0) ""
  ["file5"]=>
  string(0) ""
  ["file6"]=>
  string(0) ""
  ["file7"]=>
  string(0) ""
  ["file8"]=>
  string(0) ""
  ["file9"]=>
  string(0) ""
  ["file10"]=>
  string(0) ""
  ["file1label"]=>
  string(0) ""
  ["file2label"]=>
  string(0) ""
  ["file3label"]=>
  string(0) ""
  ["file4label"]=>
  string(0) ""
  ["file5label"]=>
  string(0) ""
  ["file6label"]=>
  string(0) ""
  ["file7label"]=>
  string(0) ""
  ["file8label"]=>
  string(0) ""
  ["file9label"]=>
  string(0) ""
  ["file10label"]=>
  string(0) ""
  ["breadcrumb"]=>
  string(0) ""
  ["fld11"]=>
  string(1) "4"
  ["fld12"]=>
  string(0) ""
  ["fld13"]=>
  string(0) ""
  ["fld14"]=>
  string(0) ""
  ["fld15"]=>
  string(0) ""
  ["fld16"]=>
  string(0) ""
  ["fld17"]=>
  string(0) ""
  ["fld18"]=>
  string(0) ""
  ["fld19"]=>
  string(0) ""
  ["fld20"]=>
  string(0) ""
  ["fld21"]=>
  string(12) "CHINA OR USA"
  ["fld22"]=>
  string(0) ""
  ["fld23"]=>
  string(0) ""
  ["fld24"]=>
  string(0) ""
  ["fld25"]=>
  string(0) ""
  ["fld26"]=>
  string(0) ""
  ["fld27"]=>
  string(0) ""
  ["fld28"]=>
  string(0) ""
  ["fld29"]=>
  string(0) ""
  ["fld30"]=>
  string(0) ""
  ["fld31"]=>
  string(0) ""
  ["fld32"]=>
  string(0) ""
  ["fld33"]=>
  string(0) ""
  ["fld34"]=>
  string(0) ""
  ["fld35"]=>
  string(0) ""
  ["fld36"]=>
  string(0) ""
  ["fld37"]=>
  string(0) ""
  ["fld38"]=>
  string(0) ""
  ["fld39"]=>
  string(0) ""
  ["fld40"]=>
  string(0) ""
  ["image1alt"]=>
  string(37) "mb1516_Faceted_Dog_lr 1624 650 650 80"
  ["boolImage1"]=>
  bool(true)
  ["image2alt"]=>
  string(16) "denim_wash_dogsm"
  ["image3alt"]=>
  string(0) ""
  ["image4alt"]=>
  string(0) ""
  ["image5alt"]=>
  string(0) ""
  ["image6"]=>
  string(0) ""
  ["image6alt"]=>
  string(0) ""
  ["image7"]=>
  string(0) ""
  ["image7alt"]=>
  string(0) ""
  ["image8"]=>
  string(0) ""
  ["image8alt"]=>
  string(0) ""
  ["image9"]=>
  string(0) ""
  ["image9alt"]=>
  string(0) ""
  ["image10"]=>
  string(0) ""
  ["image10alt"]=>
  string(0) ""
  ["pricing"]=>
  string(6) "MB1516"
  ["tradePricing"]=>
  string(1) "4"
  ["weightGrams"]=>
  string(1) "0"
  ["weightKG"]=>
  string(4) "0.00"
  ["length"]=>
  string(94) "A--1--42.4---A--3--44---A--5--45.86---B--1--35.2---B--3--42.4---D--1--20---D--3--25---E--1--40"
  ["height"]=>
  string(5) "38.55"
  ["width"]=>
  string(0) ""
}

£38.55 per box of 4
(temporarily out of stock)
Stock Available:
box of 4 = 0
Origin: CHINA OR USA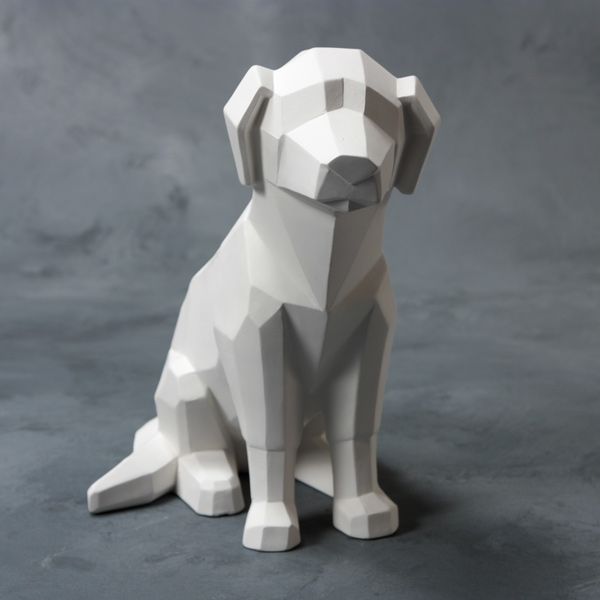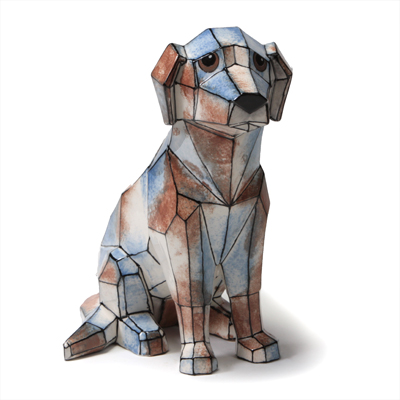 Faceted Dog measures 24cm tall by 14.5cm long.
Products Used
Bisque
Colour
SC-15 Tuxedo

SC-30 Blue Dawn

SC-41 Brown Cow

SC-65 Peri-twinkle

SG-401 Black

Clear Dipping Glaze
Decorating Accessories
CB-110 #10/0 Liner

CB-604 #4 Soft Fan
Miscellaneous Accessories
Sponge

Circle Template

Ruler (optional)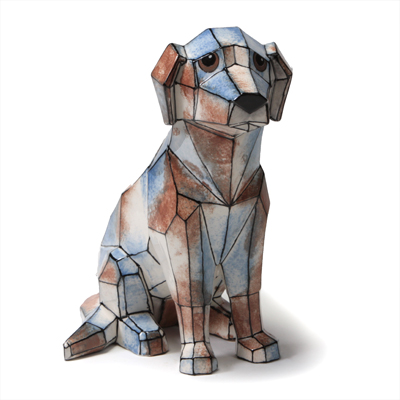 Instructions
1. Begin with properly fired shelf cone 04 Bisque. Moisten a clean sponge and wipe bisque to remove dust.
2. Use a dry sponge to apply one coat of SC-65 Peri-twinkle to various areas of the dog. Follow up with a sponged coat of SC-30 Blue Dawn over the Per-twinkle. Sponge Blue Dawn more sparingly, so you can still see Peri-twinkle.
3. Sponge one coat of SC-41 Brown Cow onto the dog, overlapping the blue. Be sure to leave bisque showing on parts of the dog so it will fire white.
4. Outline the facets of the dog with SG-401 Black. You may wish to use a ruler to keep the lines straight.
5. Use a circle template to pencil in the dog's eyes. Use the Liner to apply two coats of SC-41 Brown Cow to the iris. Apply two coats of SC-15 Tuxedo to the nose and pupil.
6. Dip into Clear Dipping Glaze.
7. Fire to cone 05/06.