Clear Dipping Glaze 3
HC3G004D
Origin: ITALY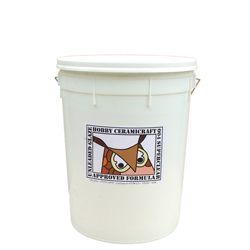 11.35 litres or 3 US gallons
A middle size bucket of our unbeatable, Lead Free, Clear Dipping Glaze.
Apply to earthenware bisque and fire to cone06 (1000C over an 8 hour firing).
More Details,...
This glaze is ready to use after thoroughly stirring it.
Water addition is necessary to achieve the original condition of the
glaze: Viscosity cup 19-20 seconds.
Once diluted, glaze must be used in reasonable short time.
This product is suitable for firing in electric kiln.
The firing temperature range from 960° C (1.760° F) to 1.060°C (1.940°
F), recommended temperature 1.000°-1.015° C (1.850 F) or Orton 06.
HST 0004 – D is suitable for the most common ceramic bodies having
a coefficient of thermal expansion of 63 x 10-7 and it is a "China
painting", gold and lustres compatible.