Kilns
Dragon
K24
£
6,533.31
Stock Available:
1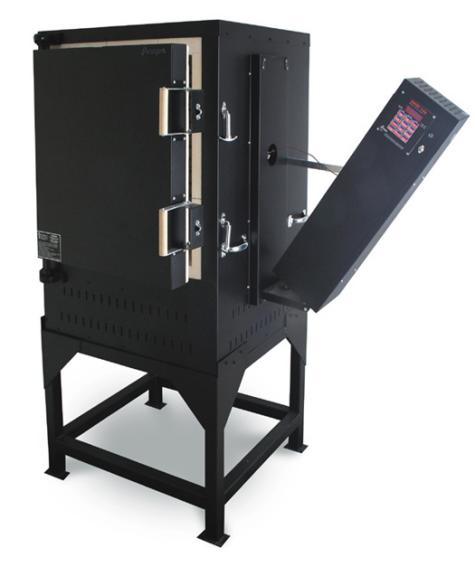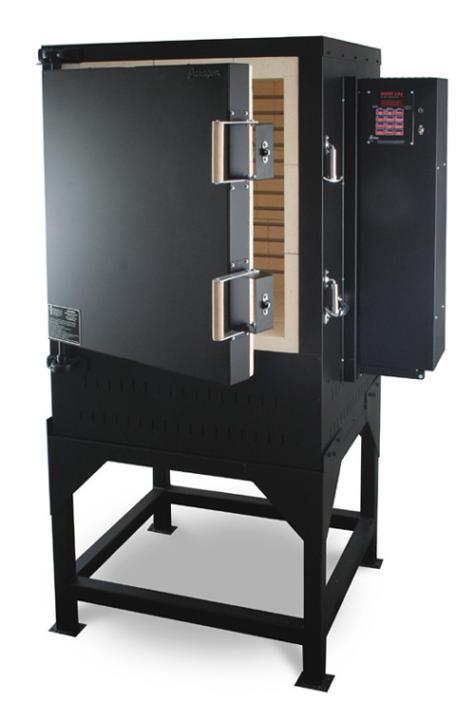 New BEAST of a kiln, FIRES HOT!!
The Dragon is an industrial furnace designed for pottery and ceramic studios. And considering its features, it is surprisingly affordable. Potters who struggle with top-loading kilns will enjoy the Dragon. The door swings open wide on a heavy ¾" steel rod with sealed bearings. Two spring-loaded latches press the door tightly closed.
The Dragon exudes power. Its 16,500 watts heat the 24 inches wide, 24 inches deep, 27 inches high interior to cone 10 with ample power to spare. This results in long element life, because the elements do not "struggle" to reach high temperatures. Dropped, recessed grooves seat industrial-gauge elements for long life.
The elements are "tuned," which means hotter elements are placed in areas of the firing chamber that need more heat. This results in superior heat distribution.
Do you ever wonder how much electricity your kiln uses? The digital controller will figure this for you; merely program the kiln's wattage and your cost of electricity into the controller. Learn to conserve energy by experimenting with firing speed, load density, etc.
Extra insulation saves energy and lengthens cooling. The 4" thick walls, top, and door are made of 3" firebrick backed by 1" of ceramic fiber block insulation. The floor is 4 ½inch thick firebrick. The inner door is recessed to help seal in the heat. Because these kilns store heat so efficiently, elements last longer.
The extra insulation not only saves energy but also cools the kiln slowly without having to turn the elements back on. This gives the micro-crystalline structure and color of the glaze sufficient time for full development. Cool slowly to achieve dramatic shifts in glaze colour such as iron reds and enjoy the richer look of gas firing. Create breathtaking pottery in this exciting kiln.
The Sentry 2.0 digital controller is standard on Paragon front-loading pottery kilns. Results are repeatable from one firing to the next with astounding accuracy. The solid-state controller continually monitors the firing. This is almost like hiring an assistant.
Long-lasting mercury relays power the elements. A bank of built-in high-amperage fuses protects the kiln and circuit wiring.
The ventilated switch box is generously louvered for air circulation for the long life of the electrical components. Yet dust is kept to a minimum. Hinged at the bottom, the switch box opens wide for easy maintenance. Open the box in seconds by merely removing two screws at the top. A folding support arm holds the box in the open position. There is plenty of working space around electrical components.
The 24inch tall stand is also available with casters for easy moving.
Doorway Clearance
The Dragon will fit through a 34 inch doorway if the handles and back element cover are temporarily removed.
Max temp: 1287
Volume: 255 litres
Depth: 68.6cm
Opening: 61cm
Outer dimensions: 111 x 100 x 175cm
Shipping weight: 410 kilos KG
Amperes: 69
Phase: 1
Watts: 16500
Volts: 240
---
Features
Saves electricity with extra insulation
Cone 10
3" insulating firebrick and 1" non-organic block insulation in walls, top and door: 4" total thickness
4 ½" thick firebrick bottom
9 cubic foot Interior: 24" wide x 24" deep x 27" tall
Long-lasting mercury relays
Sentry 2.0 controller with programmed cool-down
Case temperature at cone 10: 170°F (compared to 400-500°F for standard firebrick kilns)
Two 1 inch non-tapered peepholes in the left side of the kiln
1 inch space between switch box and kiln keeps electrical components cooler for long life.
Hinged switch box opens easily for maintenance.
Proportional power elements for more even heating