FireGoblin 7 sided kiln
K67 FireGoblin
£
1,337.34
Stock Available:
5
Origin: USA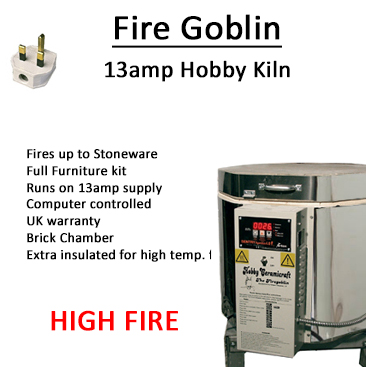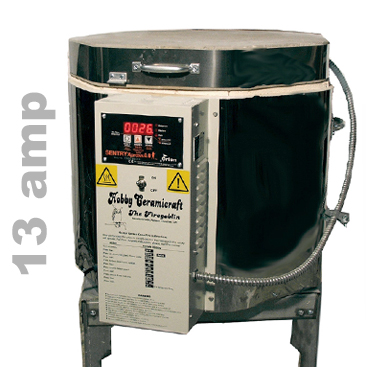 This kiln will run off a 13 amp socket, and comes with a built in computerised 3 key Sentry controller made by Orton Ceramic Foundation, full-formed steel base, and fall-away Prop-R-Vent for easy venting.
The hand selected firebrick has dropped, recessed brick grooves which eliminate element pins and offers far more protection to the elements than cheap build kilns where the elements are much more exposed in simple one-cut grooves.
The special coating of lid, peepholes and top rim of the firebricks reduces shedding of brick dust, which can cause havoc with your glazed pieces. Other features are cold-rolled stainless steel jacket, a ventilated, louvered switch box , two hand lifts, a super-insulated metal jacket allowing such high temps, heavy duty kiln stand with mar-proof plastic feet and a reversible brick bottom.
The FireGoblin is the ideal size for dolls, jewelery, and china, yet still large enough for many small mobile ceramic businesses, and brilliant as a test kiln in any studio. With its 3 inch thick firebrick walls, it can fire up to stoneware, if you are looking to fire this hot on a regular basis, do consider the the Fireluxe with its much higher powered elements.
We keep these kilns in stock, usually available for immediate despatch or collection.
All prices plus delivery (if required) and VAT, continue to shopping basket for final price.
If delivered, the kiln is shipped in a wooden crate on a pallet, to the most accessible point by pump truck to your door.
Max temp: 1232°C
Volume: 1.22 cu ft.(35litres)
Depth: 13¼ inches (34cm)
Opening: 13½ inches (34cm)
Outer dimensions: 56cmW x 65cmD x 71cmH
Shipping weight: 000072 KG
Amperes: 13
Phase: 1
Watts: 3094
Volts: 240
---
Features
Sentry Xpress 3-key controller
Solid Brick Chamber
Insulated Stainless steel jacket
Safety on/off switch Safety Tilt lid cut out as standard
Ventilated, louvred switch-box
Two hand lifts
3 inch thick firebrick walls
Heavy duty kiln stand with mar-proof plastic feet
Full-formed, galvanised steel base
Fall-away two stage Prop-R-Vent coated lid
Heavy gauge stainless steel case
Reversible brick bottom
13amp Supply
12 month warranty on kiln, 24 months on the computer, plus our ongoing help and support as long as you own the kiln!
Increased insulation blanket between kiln wall and steel casing increasing efficiency
Furniture kit
The included furniture kit consists of carefully selected fireclay shelves and posts for this particular model. The furniture allows you to stack multiple layers of ware. Without it, you could fire only the ware that would fit on the kiln bottom.
2 x 32cm C-14 Shelves and 1 32cm semi-circular C-14H 1/2 Shelf
1inch wide Square Posts, 3 each of - 1/2, 1, 2, 3, 4, 6 inch lengths
1 Bag Kiln Wash
Additional Dimensions
A minimum of 12" of additional clearance is required on all sides of kiln during operation.