Paragon Caldera Kiln
KCALDERA Caldera
£
975.68
(temporarily out of stock)
Stock Available:
0
Origin: USA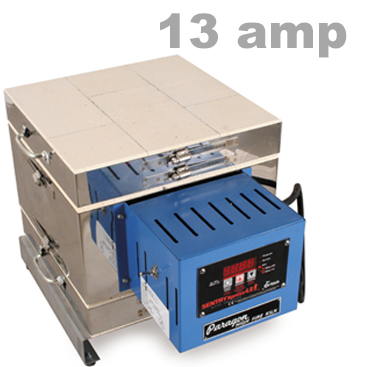 20cm square with a 17cm chamber depth, making it just a bit larger than the Firefly, the little kiln will sail up to stoneware temperature in no time. This makes it the perfect partner for testing glazes, quickly firing a sample piece, fusing glass, enamelling, making beads, playing with silver clay and many other media. A high specification computer controller is included, allowing you to set up your firing and leave it to control itself.
This kiln has often been used for vitriglass firing. The base is safely clipped to the chamber with hand twist clips. The kiln must be used with these clips safely done up, ensuring the heating elements cannot be accessed during kiln firing.
All prices plus delivery (if required) and VAT, continue to shopping basket for final price.
Max temp: 1287°C
Volume: 0.25 cu ft. (7litres)
Depth: 6.75 inches (17cm)
Opening: 8 inches (20cm)
Outer dimensions: 33cmW x 50cmD x 35cmH
Shipping weight: 000021 KG
Amperes: 8
Phase: 1
Watts: 1800
Volts: 230
---
Furniture kit
1 full shelf
4 x 2" long 1" wide square posts
1 lb bag glass separator
Usage
Silver Clay, Glass Fusing, Glaze Testing