Stoneware Glazes
Leather
SW174-P
array(194) {
  ["metaTitle"]=>
  string(27) "Hobby Ceramicraft - Leather"
  ["metaDescription"]=>
  string(29) "Leather Stoneware glaze sw174"
  ["metaKeywords"]=>
  string(0) ""
  ["parentID"]=>
  string(5) "41251"
  ["parentIDcrypt"]=>
  string(8) "oqWampI="
  ["parentName"]=>
  string(17) "Stoneware Glazes "
  ["parentType"]=>
  string(12) "firedcolours"
  ["grandParentType"]=>
  string(6) "paints"
  ["grandParentName"]=>
  string(22) "Fired Colours & Glazes"
  ["grandParentID"]=>
  string(4) "1397"
  ["grandParentIDcrypt"]=>
  string(8) "n6ehnA=="
  ["boolHasParent"]=>
  bool(true)
  ["boolHasGrandParent"]=>
  bool(true)
  ["page"]=>
  string(18) "firedcolours-child"
  ["what"]=>
  string(4) "item"
  ["item"]=>
  string(18) "firedcolours-child"
  ["idCrypt"]=>
  string(8) "o6yenpY="
  ["date1"]=>
  string(19) "2018-06-25 02:56:00"
  ["date2"]=>
  string(19) "0000-00-00 00:00:00"
  ["date3"]=>
  string(19) "0000-00-00 00:00:00"
  ["date4"]=>
  string(19) "0000-00-00 00:00:00"
  ["date5"]=>
  string(19) "0000-00-00 00:00:00"
  ["radio1"]=>
  string(1) "0"
  ["radio2"]=>
  string(1) "0"
  ["radio3"]=>
  string(1) "0"
  ["radio4"]=>
  string(1) "0"
  ["radio5"]=>
  string(1) "0"
  ["check1"]=>
  string(1) "0"
  ["check2"]=>
  string(1) "0"
  ["check3"]=>
  string(1) "0"
  ["check4"]=>
  string(1) "0"
  ["check5"]=>
  string(1) "0"
  ["select1"]=>
  string(1) "0"
  ["select2"]=>
  string(1) "0"
  ["select3"]=>
  string(1) "0"
  ["select4"]=>
  string(1) "0"
  ["select5"]=>
  string(0) ""
  ["select6"]=>
  string(0) ""
  ["select7"]=>
  string(0) ""
  ["select8"]=>
  string(0) ""
  ["select9"]=>
  string(0) ""
  ["select10"]=>
  string(0) ""
  ["select11"]=>
  string(0) ""
  ["text1"]=>
  string(736) "


	Take a look at some possible glaze combinations with this glaze:





	





	 





	





	 





	A beautiful range of glazes designed for high firing onto a Stoneware Clay, giving an outstanding, and repeatable finish. Fire to cone 4-6 and cone 8-10. Do not use on earthenware bisque,.... it will melt at these temperatures!

	Pint Bottle of a Brushing Glaze.


"
  ["text2"]=>
  string(0) ""
  ["text3"]=>
  string(0) ""
  ["text4"]=>
  string(0) ""
  ["text5"]=>
  string(0) ""
  ["text6"]=>
  string(0) ""
  ["text7"]=>
  string(0) ""
  ["text8"]=>
  string(0) ""
  ["text9"]=>
  string(0) ""
  ["text10"]=>
  string(0) ""
  ["name"]=>
  string(7) "Leather"
  ["fld2"]=>
  string(7) "SW174-P"
  ["fld3"]=>
  string(7) "SW174-P"
  ["fld4"]=>
  string(2) "14"
  ["fld5"]=>
  string(166) "A--1--36---A--6--41---A--12--44---B--1--36---B--3--38---B--6--41---B--12--42---C--3--10---C--6--20---C--12--30---D--1--20---D--3--25---D--6--30---D--12--35---E--1--34"
  ["fld6"]=>
  string(4) "11.8"
  ["fld7"]=>
  string(4) "Pint"
  ["fld8"]=>
  string(0) ""
  ["fld9"]=>
  string(0) ""
  ["fld10"]=>
  string(0) ""
  ["image1"]=>
  string(38) "SW_174_Leather_web-1909-650-650-80.jpg"
  ["imageAlt1"]=>
  NULL
  ["image2"]=>
  string(0) ""
  ["imageAlt2"]=>
  NULL
  ["image3"]=>
  string(27) "SW-Combo_SW174-Leather3.jpg"
  ["imageAlt3"]=>
  NULL
  ["image4"]=>
  string(0) ""
  ["imageAlt4"]=>
  NULL
  ["image5"]=>
  string(0) ""
  ["imageAlt5"]=>
  NULL
  ["imageCount"]=>
  NULL
  ["URL"]=>
  string(7) "leather"
  ["id"]=>
  string(5) "58695"
  ["boolExists"]=>
  int(1)
  ["parentWhat"]=>
  string(0) ""
  ["parentURL"]=>
  string(52) "paints-glazes-fired-colours-glazes-stoneware-glazes-"
  ["boolParentEditable"]=>
  string(1) "1"
  ["active"]=>
  string(1) "1"
  ["navItem"]=>
  string(1) "0"
  ["footerItem"]=>
  string(1) "0"
  ["subFooterItem"]=>
  string(1) "0"
  ["boolEditable"]=>
  string(1) "1"
  ["userID"]=>
  NULL
  ["id2"]=>
  int(0)
  ["id3"]=>
  int(0)
  ["commodityCode"]=>
  string(3) "USA"
  ["nameLong"]=>
  string(7) "SW174-P"
  ["code"]=>
  string(7) "SW174-P"
  ["weight"]=>
  string(4) "0.81"
  ["sageCode"]=>
  string(7) "SW174-P"
  ["quantity"]=>
  string(2) "14"
  ["price"]=>
  string(5) "11.80"
  ["price2"]=>
  int(0)
  ["price3"]=>
  int(0)
  ["size"]=>
  string(4) "Pint"
  ["size2"]=>
  int(0)
  ["size3"]=>
  int(0)
  ["boolSize2"]=>
  bool(false)
  ["boolSize3"]=>
  bool(false)
  ["inStockSize1"]=>
  bool(true)
  ["inStockSize2"]=>
  bool(false)
  ["inStockSize3"]=>
  bool(false)
  ["boolDiscounts"]=>
  bool(true)
  ["boolKilns"]=>
  bool(false)
  ["strDiscountString"]=>
  string(166) "A--1--36---A--6--41---A--12--44---B--1--36---B--3--38---B--6--41---B--12--42---C--3--10---C--6--20---C--12--30---D--1--20---D--3--25---D--6--30---D--12--35---E--1--34"
  ["date1day"]=>
  string(2) "25"
  ["date1month"]=>
  string(2) "06"
  ["date1year"]=>
  string(4) "2018"
  ["date2day"]=>
  string(2) "00"
  ["date2month"]=>
  string(2) "00"
  ["date2year"]=>
  string(4) "0000"
  ["check6"]=>
  string(1) "0"
  ["check7"]=>
  string(1) "0"
  ["check8"]=>
  string(1) "0"
  ["check9"]=>
  string(1) "0"
  ["check10"]=>
  string(1) "0"
  ["file1"]=>
  string(0) ""
  ["file2"]=>
  string(0) ""
  ["file3"]=>
  string(0) ""
  ["file4"]=>
  string(0) ""
  ["file5"]=>
  string(0) ""
  ["file6"]=>
  string(0) ""
  ["file7"]=>
  string(0) ""
  ["file8"]=>
  string(0) ""
  ["file9"]=>
  string(0) ""
  ["file10"]=>
  string(0) ""
  ["file1label"]=>
  string(0) ""
  ["file2label"]=>
  string(0) ""
  ["file3label"]=>
  string(0) ""
  ["file4label"]=>
  string(0) ""
  ["file5label"]=>
  string(0) ""
  ["file6label"]=>
  string(0) ""
  ["file7label"]=>
  string(0) ""
  ["file8label"]=>
  string(0) ""
  ["file9label"]=>
  string(0) ""
  ["file10label"]=>
  string(0) ""
  ["breadcrumb"]=>
  string(0) ""
  ["fld11"]=>
  string(4) "0.81"
  ["fld12"]=>
  string(0) ""
  ["fld13"]=>
  string(0) ""
  ["fld14"]=>
  string(0) ""
  ["fld15"]=>
  string(0) ""
  ["fld16"]=>
  string(0) ""
  ["fld17"]=>
  string(0) ""
  ["fld18"]=>
  string(0) ""
  ["fld19"]=>
  string(0) ""
  ["fld20"]=>
  string(0) ""
  ["fld21"]=>
  string(3) "USA"
  ["fld22"]=>
  string(0) ""
  ["fld23"]=>
  string(0) ""
  ["fld24"]=>
  string(0) ""
  ["fld25"]=>
  string(0) ""
  ["fld26"]=>
  string(0) ""
  ["fld27"]=>
  string(0) ""
  ["fld28"]=>
  string(0) ""
  ["fld29"]=>
  string(0) ""
  ["fld30"]=>
  string(0) ""
  ["fld31"]=>
  string(0) ""
  ["fld32"]=>
  string(0) ""
  ["fld33"]=>
  string(0) ""
  ["fld34"]=>
  string(0) ""
  ["fld35"]=>
  string(0) ""
  ["fld36"]=>
  string(0) ""
  ["fld37"]=>
  string(0) ""
  ["fld38"]=>
  string(0) ""
  ["fld39"]=>
  string(0) ""
  ["fld40"]=>
  string(0) ""
  ["image1alt"]=>
  string(17) "sw174_Leather 250"
  ["boolImage1"]=>
  bool(true)
  ["image2alt"]=>
  string(0) ""
  ["boolImage2"]=>
  bool(false)
  ["image3alt"]=>
  string(23) "SW Combo_SW174 Leather3"
  ["image4alt"]=>
  string(0) ""
  ["image5alt"]=>
  string(0) ""
  ["image6"]=>
  string(0) ""
  ["image6alt"]=>
  string(0) ""
  ["image7"]=>
  string(0) ""
  ["image7alt"]=>
  string(0) ""
  ["image8"]=>
  string(0) ""
  ["image8alt"]=>
  string(0) ""
  ["image9"]=>
  string(0) ""
  ["image9alt"]=>
  string(0) ""
  ["image10"]=>
  string(0) ""
  ["image10alt"]=>
  string(0) ""
  ["pricing"]=>
  string(7) "SW174-P"
  ["tradePricing"]=>
  string(4) "0.81"
  ["weightGrams"]=>
  string(2) "14"
  ["weightKG"]=>
  string(4) "0.14"
  ["length"]=>
  string(166) "A--1--36---A--6--41---A--12--44---B--1--36---B--3--38---B--6--41---B--12--42---C--3--10---C--6--20---C--12--30---D--1--20---D--3--25---D--6--30---D--12--35---E--1--34"
  ["height"]=>
  string(4) "11.8"
  ["width"]=>
  string(4) "Pint"
}

£11.80 per Pint
Stock Available:
Pint = 14
Discount price
£10.62
£9.44
£8.26
Origin: USA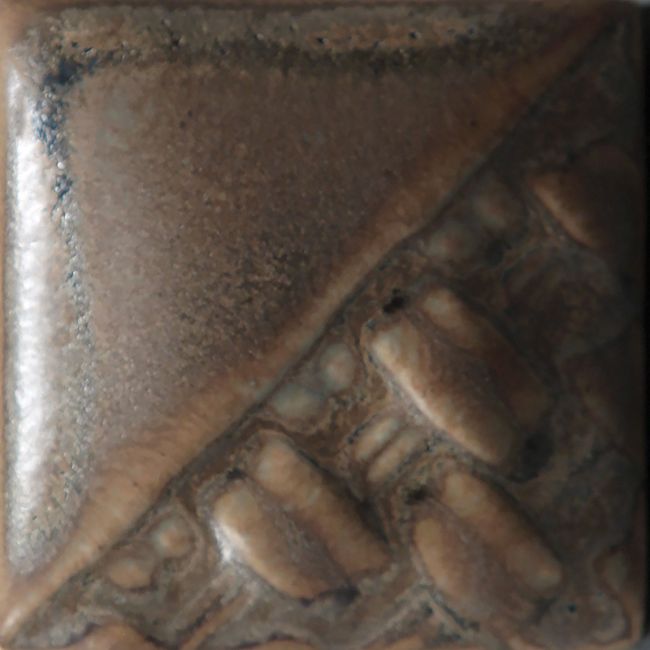 Take a look at some possible glaze combinations with this glaze: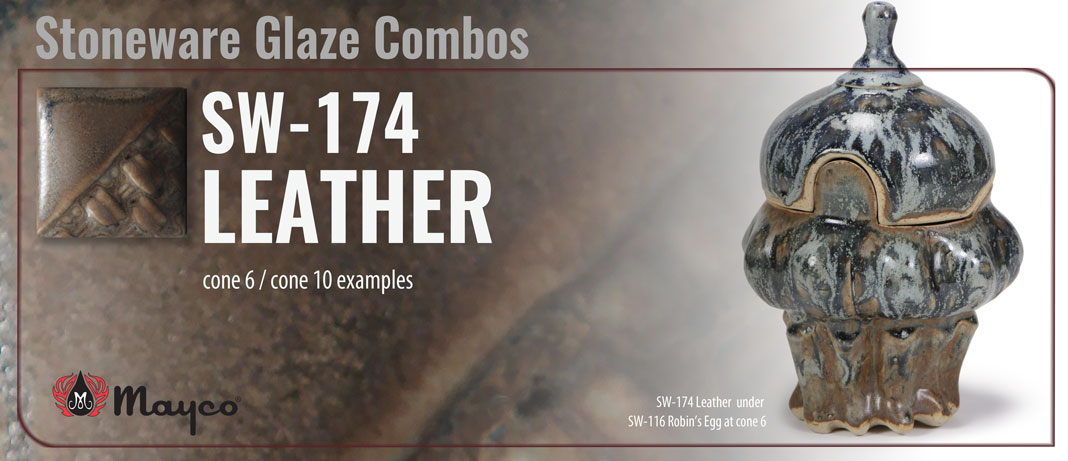 A beautiful range of glazes designed for high firing onto a Stoneware Clay, giving an outstanding, and repeatable finish. Fire to cone 4-6 and cone 8-10. Do not use on earthenware bisque,.... it will melt at these temperatures!
Pint Bottle of a Brushing Glaze.