Pottery Camp 2022
EARLY BOOKING PAGE --- PHOTOS OF PROJECTS WILL FOLLOW...
Join us once again in REAL LIFE... back in the Studio for the first time since early 2020!
In May we will be joined by the irrepressible TEDDY WRIGHT from Mayco Colors, flying over from the USA with a special Pottery Camp event, now condensed into a single day.
We will be limiting capacity in our studio to 2/3rds to increase spacing between candidates, therefore availability on each day will be limited to 30. You can book early now to reserve your place, right here, we have three separate days for you to choose from: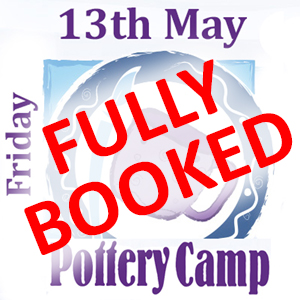 The last time we hosted a Pottery Camp with Teddy in our Studio was way back in the crazy days of 2019.. things seemed so different back then.. but now, we are back and with an adapted course, crammed into a single day, with a new layout in the studio to allow for more spacing between candidates. Teddy will host a fun creative day of decorating and idea exchanging starting at 9:30am and running to 4:30pm (ish!)
Dates are confirmed,.. projects being finalised..
Hosted at our place, close to Reading, in our superb air conditioned, comfy Studio. Open to all Ceramic Studio Owners, both mobile and Static.

Several inspirational techniques have been developed using products you may be familiar with, and some you may not. Simple techniques which we hope will inspire you to either use a new product or glaze or perhaps try a new idea with products you may already have.
ONLY £70 for the day.
Includes lunch and all project materials (except brushes). Plus vat.
For the closest accomodation to us, check the Premier Inn, in Grazeley.
What is a 'Pottery Camp'?

A Pottery Camp is a fun, informative and informal event hosted at our Property on the outskirts of Reading. An event which has been developed for the benefit of the Contemporary Ceramic Studio Owners, be that Mobile or Static, ceramic artists and enthusiasts seeking inspiration.
Several carefully developed techniques will be taught at this event. Each demonstrating either a new product, or a new idea or trend which you can reproduce in your own way or pass on to your own customers. Every project has the public firmly in mind. The goal being to help your customers produce beautiful ceramic masterpieces which will hopefully inspire them and others to return to your studio.
Marketing ideas compliment the techniques, with suggestions and advice on how to take these projects away and turn them into profitable, fun events of your own.


There are two major benefits to attending, first the dynamic, funky projects using the latest products available,.. secondly, and never to be underestimated,.. the Priceless interaction you will have with so many other likeminded business owners within a relaxed forum, who will be eager to hear your opinions and hopefully send you away with a head full of new ideas which will benefit your business.
Get Inspired!
Exchange ideas and experiences in a relaxed and informal atmosphere with likeminded studio owners from all over the UK & beyond.
There will be plenty of opportunities to meet old, and make new friends at this event.