Slip and Clay
Buff Stoneware Clay
151-1117
array(194) {
  ["metaTitle"]=>
  string(28) "Potclays buff stoneware clay"
  ["metaDescription"]=>
  string(45) "Buff stoneware clay from potclays for firing."
  ["metaKeywords"]=>
  string(0) ""
  ["parentID"]=>
  string(5) "43625"
  ["parentIDcrypt"]=>
  string(8) "oqeel5Y="
  ["parentName"]=>
  string(13) "Slip and Clay"
  ["parentType"]=>
  string(4) "slip"
  ["grandParentType"]=>
  string(8) "slippage"
  ["grandParentName"]=>
  string(13) "Slip and Clay"
  ["grandParentID"]=>
  string(5) "43620"
  ["grandParentIDcrypt"]=>
  string(8) "oqeel5E="
  ["boolHasParent"]=>
  bool(true)
  ["boolHasGrandParent"]=>
  bool(true)
  ["page"]=>
  string(0) ""
  ["what"]=>
  string(0) ""
  ["item"]=>
  string(0) ""
  ["idCrypt"]=>
  string(8) "o6qgnZk="
  ["date1"]=>
  string(19) "2015-10-23 00:00:00"
  ["date2"]=>
  string(19) "2015-10-23 00:00:00"
  ["date3"]=>
  string(19) "2015-10-23 00:00:00"
  ["date4"]=>
  string(19) "2015-10-23 00:00:00"
  ["date5"]=>
  string(19) "2015-10-23 00:00:00"
  ["radio1"]=>
  string(1) "0"
  ["radio2"]=>
  string(1) "0"
  ["radio3"]=>
  string(1) "0"
  ["radio4"]=>
  string(1) "0"
  ["radio5"]=>
  string(1) "0"
  ["check1"]=>
  string(1) "0"
  ["check2"]=>
  string(1) "0"
  ["check3"]=>
  string(1) "0"
  ["check4"]=>
  string(1) "0"
  ["check5"]=>
  string(1) "0"
  ["select1"]=>
  string(1) "0"
  ["select2"]=>
  string(1) "0"
  ["select3"]=>
  string(1) "0"
  ["select4"]=>
  string(1) "0"
  ["select5"]=>
  string(0) ""
  ["select6"]=>
  string(0) ""
  ["select7"]=>
  string(0) ""
  ["select8"]=>
  string(0) ""
  ["select9"]=>
  string(0) ""
  ["select10"]=>
  string(0) ""
  ["select11"]=>
  string(0) ""
  ["text1"]=>
  string(429) "


	1117M Buff Stoneware





	Fireclay based, inexpensive stoneware body for general use. Throws well, turns easily. Plastic, strong and reliable.

	

	An attractively priced buff firing stoneware clay suitable for earthenware and stoneware use. Ideally suited for use in schools & studios.





	Recommended Firing Range 1150-1290C





	 





	12.5 kilo block


"
  ["text2"]=>
  string(0) ""
  ["text3"]=>
  string(0) ""
  ["text4"]=>
  string(0) ""
  ["text5"]=>
  string(0) ""
  ["text6"]=>
  string(0) ""
  ["text7"]=>
  string(0) ""
  ["text8"]=>
  string(0) ""
  ["text9"]=>
  string(0) ""
  ["text10"]=>
  string(0) ""
  ["name"]=>
  string(19) "Buff Stoneware Clay"
  ["fld2"]=>
  string(8) "151-1117"
  ["fld3"]=>
  string(8) "151-1117"
  ["fld4"]=>
  string(2) "95"
  ["fld5"]=>
  string(209) "A--1--10---A--2--15---A--4--20---A--8--25---A--20--40---B--1--10---B--2--15---B--4--20---B--8--25---B--20--40---C--2--10---C--4--15---C--8--20---D--1--10---D--2--15---D--4--20---D--8--25---D--20--40---E--4--10"
  ["fld6"]=>
  string(3) "6.8"
  ["fld7"]=>
  string(8) "12.5kilo"
  ["fld8"]=>
  string(0) ""
  ["fld9"]=>
  string(0) ""
  ["fld10"]=>
  string(0) ""
  ["image1"]=>
  string(12) "151-1117.jpg"
  ["imageAlt1"]=>
  NULL
  ["image2"]=>
  string(0) ""
  ["imageAlt2"]=>
  NULL
  ["image3"]=>
  string(0) ""
  ["imageAlt3"]=>
  NULL
  ["image4"]=>
  string(0) ""
  ["imageAlt4"]=>
  NULL
  ["image5"]=>
  string(0) ""
  ["imageAlt5"]=>
  NULL
  ["imageCount"]=>
  NULL
  ["URL"]=>
  string(33) "slip-and-clay-buff-stoneware-clay"
  ["id"]=>
  string(5) "56888"
  ["boolExists"]=>
  int(1)
  ["parentWhat"]=>
  string(0) ""
  ["parentURL"]=>
  string(13) "slip-and-clay"
  ["boolParentEditable"]=>
  string(1) "1"
  ["active"]=>
  string(1) "1"
  ["navItem"]=>
  string(1) "0"
  ["footerItem"]=>
  string(1) "0"
  ["subFooterItem"]=>
  string(1) "0"
  ["boolEditable"]=>
  string(1) "1"
  ["userID"]=>
  NULL
  ["id2"]=>
  int(0)
  ["id3"]=>
  int(0)
  ["commodityCode"]=>
  string(2) "UK"
  ["nameLong"]=>
  string(8) "151-1117"
  ["code"]=>
  string(8) "151-1117"
  ["weight"]=>
  string(4) "12.6"
  ["sageCode"]=>
  string(8) "151-1117"
  ["quantity"]=>
  string(2) "95"
  ["price"]=>
  string(4) "6.80"
  ["price2"]=>
  int(0)
  ["price3"]=>
  int(0)
  ["size"]=>
  string(8) "12.5kilo"
  ["size2"]=>
  int(0)
  ["size3"]=>
  int(0)
  ["boolSize2"]=>
  bool(false)
  ["boolSize3"]=>
  bool(false)
  ["inStockSize1"]=>
  bool(true)
  ["inStockSize2"]=>
  bool(false)
  ["inStockSize3"]=>
  bool(false)
  ["boolDiscounts"]=>
  bool(true)
  ["boolKilns"]=>
  bool(false)
  ["strDiscountString"]=>
  string(209) "A--1--10---A--2--15---A--4--20---A--8--25---A--20--40---B--1--10---B--2--15---B--4--20---B--8--25---B--20--40---C--2--10---C--4--15---C--8--20---D--1--10---D--2--15---D--4--20---D--8--25---D--20--40---E--4--10"
  ["date1day"]=>
  string(2) "23"
  ["date1month"]=>
  string(2) "10"
  ["date1year"]=>
  string(4) "2015"
  ["date2day"]=>
  string(2) "23"
  ["date2month"]=>
  string(2) "10"
  ["date2year"]=>
  string(4) "2015"
  ["check6"]=>
  string(1) "0"
  ["check7"]=>
  string(1) "0"
  ["check8"]=>
  string(1) "0"
  ["check9"]=>
  string(1) "0"
  ["check10"]=>
  string(1) "0"
  ["file1"]=>
  string(0) ""
  ["file2"]=>
  string(0) ""
  ["file3"]=>
  string(0) ""
  ["file4"]=>
  string(0) ""
  ["file5"]=>
  string(0) ""
  ["file6"]=>
  string(0) ""
  ["file7"]=>
  string(0) ""
  ["file8"]=>
  string(0) ""
  ["file9"]=>
  string(0) ""
  ["file10"]=>
  string(0) ""
  ["file1label"]=>
  string(0) ""
  ["file2label"]=>
  string(0) ""
  ["file3label"]=>
  string(0) ""
  ["file4label"]=>
  string(0) ""
  ["file5label"]=>
  string(0) ""
  ["file6label"]=>
  string(0) ""
  ["file7label"]=>
  string(0) ""
  ["file8label"]=>
  string(0) ""
  ["file9label"]=>
  string(0) ""
  ["file10label"]=>
  string(0) ""
  ["breadcrumb"]=>
  string(0) ""
  ["fld11"]=>
  string(4) "12.6"
  ["fld12"]=>
  string(0) ""
  ["fld13"]=>
  string(0) ""
  ["fld14"]=>
  string(0) ""
  ["fld15"]=>
  string(0) ""
  ["fld16"]=>
  string(0) ""
  ["fld17"]=>
  string(0) ""
  ["fld18"]=>
  string(0) ""
  ["fld19"]=>
  string(0) ""
  ["fld20"]=>
  string(0) ""
  ["fld21"]=>
  string(2) "UK"
  ["fld22"]=>
  string(0) ""
  ["fld23"]=>
  string(0) ""
  ["fld24"]=>
  string(0) ""
  ["fld25"]=>
  string(0) ""
  ["fld26"]=>
  string(0) ""
  ["fld27"]=>
  string(0) ""
  ["fld28"]=>
  string(0) ""
  ["fld29"]=>
  string(0) ""
  ["fld30"]=>
  string(0) ""
  ["fld31"]=>
  string(0) ""
  ["fld32"]=>
  string(0) ""
  ["fld33"]=>
  string(0) ""
  ["fld34"]=>
  string(0) ""
  ["fld35"]=>
  string(0) ""
  ["fld36"]=>
  string(0) ""
  ["fld37"]=>
  string(0) ""
  ["fld38"]=>
  string(0) ""
  ["fld39"]=>
  string(0) ""
  ["fld40"]=>
  string(0) ""
  ["image1alt"]=>
  string(28) "Buff Stoneware Clay 151-1117"
  ["boolImage1"]=>
  bool(true)
  ["image2alt"]=>
  string(0) ""
  ["boolImage2"]=>
  bool(false)
  ["image3alt"]=>
  string(0) ""
  ["image4alt"]=>
  string(0) ""
  ["image5alt"]=>
  string(0) ""
  ["image6"]=>
  string(0) ""
  ["image6alt"]=>
  string(0) ""
  ["image7"]=>
  string(0) ""
  ["image7alt"]=>
  string(0) ""
  ["image8"]=>
  string(0) ""
  ["image8alt"]=>
  string(0) ""
  ["image9"]=>
  string(0) ""
  ["image9alt"]=>
  string(0) ""
  ["image10"]=>
  string(0) ""
  ["image10alt"]=>
  string(0) ""
  ["pricing"]=>
  string(8) "151-1117"
  ["tradePricing"]=>
  string(4) "12.6"
  ["weightGrams"]=>
  string(2) "95"
  ["weightKG"]=>
  string(4) "0.95"
  ["length"]=>
  string(209) "A--1--10---A--2--15---A--4--20---A--8--25---A--20--40---B--1--10---B--2--15---B--4--20---B--8--25---B--20--40---C--2--10---C--4--15---C--8--20---D--1--10---D--2--15---D--4--20---D--8--25---D--20--40---E--4--10"
  ["height"]=>
  string(3) "6.8"
  ["width"]=>
  string(8) "12.5kilo"
}

£6.80 per 12.5kilo
Stock Available:
12.5kilo = 50+
Discount price
£6.12
£5.78
£5.44
Origin: UK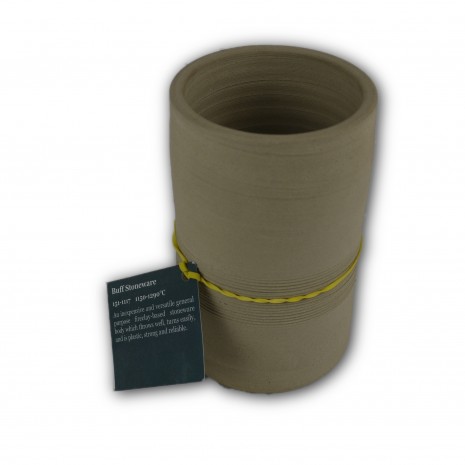 1117M Buff Stoneware
Fireclay based, inexpensive stoneware body for general use. Throws well, turns easily. Plastic, strong and reliable.

An attractively priced buff firing stoneware clay suitable for earthenware and stoneware use. Ideally suited for use in schools & studios.
Recommended Firing Range 1150-1290C
12.5 kilo block