Pottery Painting Business Starter Kits
Plaster Outprints business kit
WEBKIT8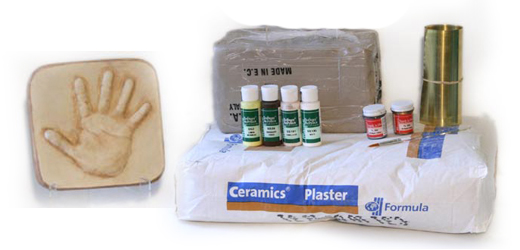 Price excluding VAT, includes delivery to Zone1 mainland UK
1 x 25kg bag Plaster
1 x 12.5kg block White Earthenware Clay
6 x assorted Colours for decorating
(SS135 White Acrylic 59ml (2oz) SS45 Buttermilk Acrylic 59ml, SS137 Black 59ml Acrylic
30ml TL001 Walnut oil transulcent, TL203 Gold Wax Rub, TL204 Silver Wax Rub)
1 x mtr Brass Surround
1 x Brush RSG1/2

This pack contains heavy items, it weighs a total of 40kg. The clay block is 12.5kg and the pack of plaster is 25kg. A signature is required on delivery. You are welcome to collect from RG7 1 JF.