Bre
Stoneware Glazes for PYOP
BRE002
£
50.00
Stock Available:
18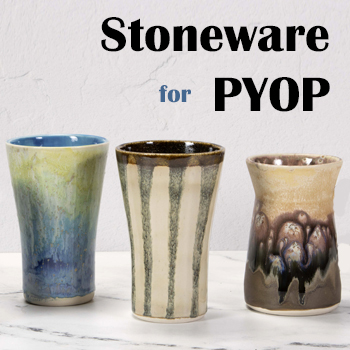 February 5th – Wednesday
Stoneware Glazes in the PYOP studio – Using Mayco Stoneware bisque
Discover how to use, apply, mix and fire the Mayco Stoneware Glazes on a selection of pre-fired Stoneware bisque shapes.
Bre Kathman has a wealth of experience in Stoneware and Clay, that we can draw from. Learn how your 'Paint your Own Pottery' business could incorporate stoneware as a profitable addition into your existing earthenware bisque studio business. Discuss operational and promotional topics, as well as plenty of hands on projects.
This day is designed for Paint your own Pottery businesses and will focus on the business opportunities of having Stoneware Glazes in your studio. You do need a kiln that will fire to Cone 6 (1220C) to create stoneware, however fear not if you currently do not, as we can fire the pieces you create on this day while you consider whether you could justify a new kiln that would fire to Cone 6!
Cost of the day : £50+vat light lunch included.
Start: 9.30am until 5pm
Pay for your place now by selecting this item and paying for it in full, in advance. We will email you confirmation. Course booking T & C's
Hosted at Hobby Ceramicraft in Reading by "Bre Kathman" from Mayco USA.
Bre is a young, fun, renegade of the Clay World. She is employed by Mayco to take their market leading products to the consumer marketplace using her unremitting creativity and insatiable desire for teaching. Before joining Mayco last year, Bre has been an Education Specialist, ceramics instructor, studio manager, and accomplished Potter. Bre brings the PYOP community vast experience in education, market trend analysis, customer service, workshops, and cost-effective programming. She holds a Master's Degree in Ceramics and a Bachelor's Degree in Art Education.... She's nice... you'll like her..!