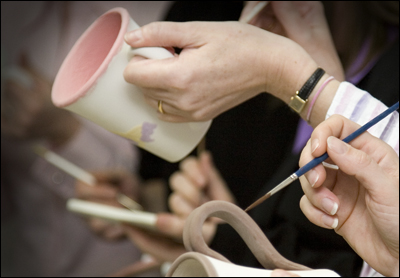 You'll learn:
* What equipment may be required,
* What are the costs involved,
* Several simple techniques to pass on to your customers,
* How to successfully glaze a piece,
* How to develop your business into other potentially overlooked sectors,
* Where to market your business,
* Guidance and ideas from our experience dealing with the smartest studios around,
* Important health and safety, public liability aspects of runing a PYO pottery business,
* How to efficiently use and maintain a kiln,
and a whole lot more....
We're here to answer your questions too, so feel free to bring a list too!
The day begins at 9:30am, stopping for (supplied!) lunch at around 12pm, and usually concluding around 5pm.... sometimes 6pm... ! depending on how much we chat!
Scroll down to see the next scheduled dates.
We run these courses at regular intervals throughout the year, usually on a Wednesday.
These single day 'condensed' events are packed full of useful advice as well as decorating experience, giving you the 'hands-on' experience necessary to be familiar with the products used, ensuring the work your customers produce will be of the highest quality.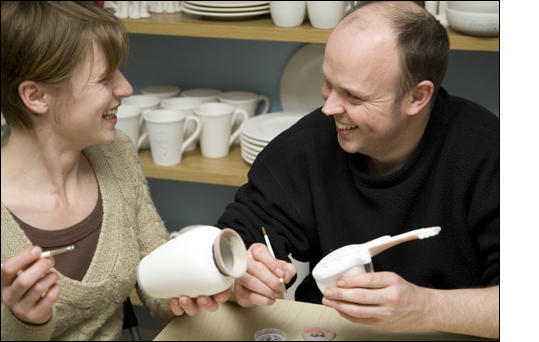 These events are hosted at our fabulous studio here in Berkshire. The atmosphere is relaxed and open, please ask any questions you like without feeling awkward. Ask us questions that you feel will relate directly to the business you are looking to set up. No two new ceramic businesses are ever the same, and your circumstances will probably differ from others, so our advice to you will be given to ensure you are making the most of the opportunity in your area. Never underestimate our dedication to the success of your new venture,
Our success depends on it!
Lunch we will provide for you, as we will tea, coffee, water etc, throughout your stay with us.
Give yourself the peace of mind to know that you have had the best possible preparation, avoiding costly mistakes in the early days, giving you the kick-start you need.
If you still have more questions after the course and would like to talk to us in more detail about your new enterprise, why not plan to stay over in the evening of the course and visit us the next day. We would be more than happy to then spend all the time you need working with you to prepare the best business plan possible and help you decide which equipment and materials you may need to get started, all of which can then be purchased at a discounted, 'trade' price after attending this course. Let us help you plan the next step.
The price is £145. This includes lunch, drinks, snacks throughout, as well as all the materials used. We take full payment in advance for this, click below to reserve your place.
We look forward to hearing from you!
"I just wanted to say how much I enjoyed and found value in the last two days.. There is no doubt in my mind that you offer the 'best' in customer relations and service. Your knowledge base is immense and that builds such a confidence in the likes of me a beginner. I have had a terrific day, and would happily recommend it to anybody else interested."

A recent course participant
Note: Our main teaching studio is upstairs, please let know if you have any accessibility concerns.
Book your place right here:
To ask a question about the
"Introduction to the Business of Paint-Your-Own-Pottery" course,
please click here

As well as our starter course, as part of our commitment to helping your business grow, we also arrange special events inviting talented teachers over from the U.S. to show us some of the latest and most exciting developments within this unique craft. These 'Pottery Camps' are a great networking opportunity for you to meet other studio owners from across the U.K. exchange ideas and experiences. If you are an existing studio or perhaps considering starting up a new studio, and already have a basic grounding in the principles of ceramic decorating, do consider attending one of these very special events.