Pottery Training and Courses
The Business of Paint your Own Pottery course.
Taking bookings for 'Home Learning' courses via "Zoom" and back for 2022, onsite Training too:
Join us from the comfort of your own home.
Updated and comprehensive, this Business startup course has been adapted to make it teachable at a distance - you stay where you are, and we'll come direct to you through your laptop!
When you book your place, we will despatch a kit to you which will allow you to learn how to get the best results from the most relevant products used in our industry today.
Watch, chat, paint and learn with us, online!
We have also taken into account the impact Covid has had on the retail marketplace, and this specially tailored course will have content reflecting the trading situation of studios who are serving a lively market, still eager to take part in this enjoyable craft.
We will demonstrate with our equipment here, how to use an electric kiln, how to use dipping glaze and explain how best to serve the market during lockdown and beyond. Unsurprisingly, the demand from the public to create long lasting family artworks is still there, arguably it is in more demand as families look for wholesome, creative and fun activities while spending more time together at home. Fulfilling this demand when approached sensibly, still allows PYOP studios to trade successfully under changing retail influences.
As a 'Zoom' meeting we still have the ability to speak directly to each one of you and answer specific questions you all may have regarding any particular ideas or plans you may be considering.
We're here to answer your questions too, so feel free to bring a list too!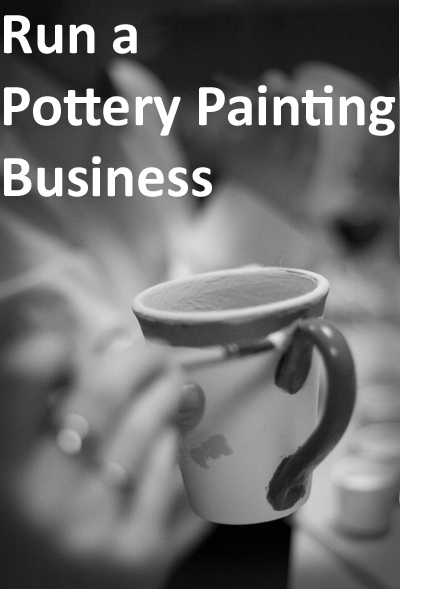 Book your place below and we will get the supplies box to you in plenty of time. If you are not especially interested in painting along, or perhaps you are one of our increasingly regular International attendees, just tell us on the order you do not require a kit to be posted. The purpose of this course is to help you establish a successful business, the decorating of a few sample pieces is to give you a physical view of the materials available which is useful, but clearly not essential.
The zoom login details will be emailed a few days before.
The day starts online at 9:30am for a chat and for us to hear about your plans and what you would like to learn, then we will give a presentation covering the current opportunities in the market as we see them. We will then demonstrate how to get the best out of the products used in Pottery Painting and this will include getting you to paint along with materials included in your delivered pack. We will break for lunch at 1pm, (I'm afraid that's not in the pack!) then reconvene at 1.45pm for more instruction and talk about equipment, aiming to finish by 5pm.
After the course you are naturally welcome to connect with Jane or Matt to discuss further any plans you may have, we would be happy to spend the time you need to help you plan your new venture to be as successful as possible.... You succeed, ... We succeed!
We have literally a lifetime of experience serving this wonderful sector of the market, (and still love it!) and have picked up hints and tips from speaking with countless creative entrepreneurs over the years. This continues up to the current Coronavirus situation where we have been running weekly Zoom meetings with Ceramic Studio owners, listening to their concerns and ideas for the future and through an active dialogue with other studio owners, help direct them through this exceptional time. 'Paint at Home' kits have proved popular, opening up the traditional customer base to a wider cross section of the public who might have not visited a studio before. We have many ideas on the changing retail dynamic that we will share with you!
We have a strong focus on the future and look to help guide and assist ceramic studios as and when the restrictions get lifted. Our advice on this course will cover all the standard guidance for beginning a small business either as a 'Mobile' studio, or a 'Static', High street based setup.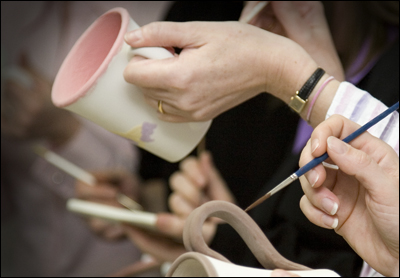 Our "Introduction to the Business of Paint Your Own Pottery" day course is the perfect course to attend if you are looking to begin a new business within the contemporary ceramics market. Take the worry out of starting up a new ceramic cafe or mobile pottery painting business. Let Jane and Matthew give you the benefit of their lifetime's of experience within the ceramics industry, both as decorators themselves, and long standing suppliers to some of the most successful Pottery Painting businesses throughout the U.K. You'll not simply see 'how it's done', but also learn how to make the most of your own business opportunity, working through the various business models from home studio, to mobile and up to static high street shop locations. Whatever your individual plan, and whenever you plan to open, we will help prepare you for the successful opening of your own business.
You'll learn:
What equipment may be required,
What are the costs involved,
Several simple techniques to pass on to your customers,
How to successfully glaze a piece,
How to develop your business into other potentially overlooked sectors,
Where to market your business,
Guidance and ideas from our experience dealing with the smartest studios around,
Important health and safety, public liability aspects of runing a PYO pottery business,
How to efficiently use and maintain a kiln,
and a whole lot more....
Ceramics is our business, join us and make it yours too!
Next Course will be in September..
Book here:
2022 we are back hosting Training events in our studio in Grazeley, near Reading, Berkshire. Join us for a 9:30am start, all materials supplied, including a light lunch.
Or, choose to join our in-studio training remotely, via zoom. Interact with us, ask questions, listen and learn from your home. No 'paintalong' kit will be included with this option as items to decorate are likely to change as the day unfolds.