Clear Glazes
Clear Dipping Glaze 5
HC5G004D
array(194) {
  ["metaTitle"]=>
  string(35) "Clear dipping glaze 5 gallon bucket"
  ["metaDescription"]=>
  string(186) "Hobby Colorobbia Clear Dipping glaze for Pottery Painting studios.  Great price on the most popular sized bucket of the market leading brand introduced by Hobby Ceramicraft back in 2001."
  ["metaKeywords"]=>
  string(0) ""
  ["parentID"]=>
  string(5) "43498"
  ["parentIDcrypt"]=>
  string(8) "oqecnpk="
  ["parentName"]=>
  string(12) "Clear Glazes"
  ["parentType"]=>
  string(11) "clearglazes"
  ["grandParentType"]=>
  string(6) "paints"
  ["grandParentName"]=>
  string(12) "Clear Glazes"
  ["grandParentID"]=>
  string(4) "1396"
  ["grandParentIDcrypt"]=>
  string(8) "n6ehmw=="
  ["boolHasParent"]=>
  bool(true)
  ["boolHasGrandParent"]=>
  bool(true)
  ["page"]=>
  string(0) ""
  ["what"]=>
  string(0) ""
  ["item"]=>
  string(0) ""
  ["idCrypt"]=>
  string(8) "oqedlZM="
  ["date1"]=>
  string(19) "2014-02-12 00:00:00"
  ["date2"]=>
  string(19) "2014-02-12 00:00:00"
  ["date3"]=>
  string(19) "2014-02-12 00:00:00"
  ["date4"]=>
  string(19) "2014-02-12 00:00:00"
  ["date5"]=>
  string(19) "2014-02-12 00:00:00"
  ["radio1"]=>
  string(1) "0"
  ["radio2"]=>
  string(1) "0"
  ["radio3"]=>
  string(1) "0"
  ["radio4"]=>
  string(1) "0"
  ["radio5"]=>
  string(1) "0"
  ["check1"]=>
  string(1) "0"
  ["check2"]=>
  string(1) "0"
  ["check3"]=>
  string(1) "0"
  ["check4"]=>
  string(1) "0"
  ["check5"]=>
  string(1) "0"
  ["select1"]=>
  string(2) "--"
  ["select2"]=>
  string(2) "--"
  ["select3"]=>
  string(0) ""
  ["select4"]=>
  string(0) ""
  ["select5"]=>
  string(0) ""
  ["select6"]=>
  string(0) ""
  ["select7"]=>
  string(0) ""
  ["select8"]=>
  string(0) ""
  ["select9"]=>
  string(0) ""
  ["select10"]=>
  string(0) ""
  ["select11"]=>
  string(0) ""
  ["text1"]=>
  string(574) "


	Apply to earthenware bisque and fire to cone06 (1000C over an 8 hour firing).

	The most popular size we sell of the superb, easy to use, Lead Free, Dipping Clear Glaze.

	This item is heavy, it weighs 30kg. Best to include on a pallet, or collect. Parcel couriers will not insure this product in transit so this item is sent at your risk. Therefore if shipping by parcel courier would recommend ordering 3 gallon size bucket.  More Details,...


"
  ["text2"]=>
  string(0) ""
  ["text3"]=>
  string(0) ""
  ["text4"]=>
  string(0) ""
  ["text5"]=>
  string(0) ""
  ["text6"]=>
  string(0) ""
  ["text7"]=>
  string(0) ""
  ["text8"]=>
  string(0) ""
  ["text9"]=>
  string(0) ""
  ["text10"]=>
  string(0) ""
  ["name"]=>
  string(21) "Clear Dipping Glaze 5"
  ["fld2"]=>
  string(8) "HC5G004D"
  ["fld3"]=>
  string(8) "HC5G004D"
  ["fld4"]=>
  string(3) "129"
  ["fld5"]=>
  string(68) "A--1--40---A--3--42---A--9--45.86---B--1--35.2---D--1--20---E--1--40"
  ["fld6"]=>
  string(6) "110.39"
  ["fld7"]=>
  string(0) ""
  ["fld8"]=>
  string(0) ""
  ["fld9"]=>
  string(0) ""
  ["fld10"]=>
  string(3) "010"
  ["image1"]=>
  string(14) "HC5G004D.jpg
"
  ["imageAlt1"]=>
  NULL
  ["image2"]=>
  string(0) ""
  ["imageAlt2"]=>
  NULL
  ["image3"]=>
  string(0) ""
  ["imageAlt3"]=>
  NULL
  ["image4"]=>
  string(0) ""
  ["imageAlt4"]=>
  NULL
  ["image5"]=>
  string(0) ""
  ["imageAlt5"]=>
  NULL
  ["imageCount"]=>
  NULL
  ["URL"]=>
  string(34) "clear-glazes-clear-dipping-glaze-5"
  ["id"]=>
  string(5) "43502"
  ["boolExists"]=>
  int(1)
  ["parentWhat"]=>
  string(0) ""
  ["parentURL"]=>
  string(12) "clear-glazes"
  ["boolParentEditable"]=>
  string(1) "1"
  ["active"]=>
  string(1) "1"
  ["navItem"]=>
  string(1) "0"
  ["footerItem"]=>
  string(1) "0"
  ["subFooterItem"]=>
  string(1) "0"
  ["boolEditable"]=>
  string(1) "1"
  ["userID"]=>
  NULL
  ["id2"]=>
  int(0)
  ["id3"]=>
  int(0)
  ["commodityCode"]=>
  string(5) "ITALY"
  ["nameLong"]=>
  string(8) "HC5G004D"
  ["code"]=>
  string(8) "HC5G004D"
  ["weight"]=>
  string(2) "30"
  ["sageCode"]=>
  string(8) "HC5G004D"
  ["quantity"]=>
  string(3) "129"
  ["price"]=>
  string(6) "110.39"
  ["price2"]=>
  int(0)
  ["price3"]=>
  int(0)
  ["size"]=>
  string(0) ""
  ["size2"]=>
  int(0)
  ["size3"]=>
  int(0)
  ["boolSize2"]=>
  bool(false)
  ["boolSize3"]=>
  bool(false)
  ["inStockSize1"]=>
  bool(true)
  ["inStockSize2"]=>
  bool(false)
  ["inStockSize3"]=>
  bool(false)
  ["boolDiscounts"]=>
  bool(true)
  ["boolKilns"]=>
  bool(false)
  ["strDiscountString"]=>
  string(68) "A--1--40---A--3--42---A--9--45.86---B--1--35.2---D--1--20---E--1--40"
  ["date1day"]=>
  string(2) "12"
  ["date1month"]=>
  string(2) "02"
  ["date1year"]=>
  string(4) "2014"
  ["date2day"]=>
  string(2) "12"
  ["date2month"]=>
  string(2) "02"
  ["date2year"]=>
  string(4) "2014"
  ["check6"]=>
  string(1) "0"
  ["check7"]=>
  string(1) "0"
  ["check8"]=>
  string(1) "0"
  ["check9"]=>
  string(1) "0"
  ["check10"]=>
  string(1) "0"
  ["file1"]=>
  string(0) ""
  ["file2"]=>
  string(0) ""
  ["file3"]=>
  string(0) ""
  ["file4"]=>
  string(0) ""
  ["file5"]=>
  string(0) ""
  ["file6"]=>
  string(0) ""
  ["file7"]=>
  string(0) ""
  ["file8"]=>
  string(0) ""
  ["file9"]=>
  string(0) ""
  ["file10"]=>
  string(0) ""
  ["file1label"]=>
  string(0) ""
  ["file2label"]=>
  string(0) ""
  ["file3label"]=>
  string(0) ""
  ["file4label"]=>
  string(0) ""
  ["file5label"]=>
  string(0) ""
  ["file6label"]=>
  string(0) ""
  ["file7label"]=>
  string(0) ""
  ["file8label"]=>
  string(0) ""
  ["file9label"]=>
  string(0) ""
  ["file10label"]=>
  string(0) ""
  ["breadcrumb"]=>
  string(0) ""
  ["fld11"]=>
  string(2) "30"
  ["fld12"]=>
  string(0) ""
  ["fld13"]=>
  string(6) "000030"
  ["fld14"]=>
  string(0) ""
  ["fld15"]=>
  string(0) ""
  ["fld16"]=>
  string(0) ""
  ["fld17"]=>
  string(0) ""
  ["fld18"]=>
  string(0) ""
  ["fld19"]=>
  string(0) ""
  ["fld20"]=>
  string(0) ""
  ["fld21"]=>
  string(5) "ITALY"
  ["fld22"]=>
  string(0) ""
  ["fld23"]=>
  string(0) ""
  ["fld24"]=>
  string(0) ""
  ["fld25"]=>
  string(0) ""
  ["fld26"]=>
  string(0) ""
  ["fld27"]=>
  string(0) ""
  ["fld28"]=>
  string(0) ""
  ["fld29"]=>
  string(0) ""
  ["fld30"]=>
  string(0) ""
  ["fld31"]=>
  string(0) ""
  ["fld32"]=>
  string(0) ""
  ["fld33"]=>
  string(0) ""
  ["fld34"]=>
  string(0) ""
  ["fld35"]=>
  string(0) ""
  ["fld36"]=>
  string(0) ""
  ["fld37"]=>
  string(0) ""
  ["fld38"]=>
  string(0) ""
  ["fld39"]=>
  string(0) ""
  ["fld40"]=>
  string(0) ""
  ["image1alt"]=>
  string(30) "Clear Dipping Glaze 5 HC5G004D"
  ["boolImage1"]=>
  bool(true)
  ["image2alt"]=>
  string(0) ""
  ["boolImage2"]=>
  bool(false)
  ["image3alt"]=>
  string(0) ""
  ["image4alt"]=>
  string(0) ""
  ["image5alt"]=>
  string(0) ""
  ["image6"]=>
  string(0) ""
  ["image6alt"]=>
  string(0) ""
  ["image7"]=>
  string(0) ""
  ["image7alt"]=>
  string(0) ""
  ["image8"]=>
  string(0) ""
  ["image8alt"]=>
  string(0) ""
  ["image9"]=>
  string(0) ""
  ["image9alt"]=>
  string(0) ""
  ["image10"]=>
  string(0) ""
  ["image10alt"]=>
  string(0) ""
  ["pricing"]=>
  string(8) "HC5G004D"
  ["tradePricing"]=>
  string(2) "30"
  ["weightGrams"]=>
  string(3) "129"
  ["weightKG"]=>
  string(4) "1.29"
  ["length"]=>
  string(68) "A--1--40---A--3--42---A--9--45.86---B--1--35.2---D--1--20---E--1--40"
  ["height"]=>
  string(6) "110.39"
  ["width"]=>
  string(0) ""
}

£
110.39
Stock Available:
50+
Origin: ITALY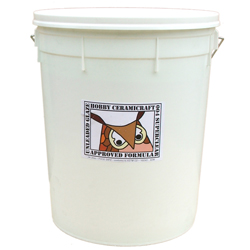 Apply to earthenware bisque and fire to cone06 (1000C over an 8 hour firing).
The most popular size we sell of the superb, easy to use, Lead Free, Dipping Clear Glaze.
This item is heavy, it weighs 30kg. Best to include on a pallet, or collect. Parcel couriers will not insure this product in transit so this item is sent at your risk. Therefore if shipping by parcel courier would recommend ordering 3 gallon size bucket. More Details,...