Clear Dipping Glaze 5
HC5G004D (For pallet delivery or collection only)
£
118.06
Stock Available:
14
Origin: ITALY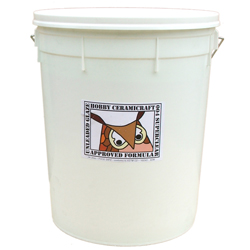 For collection or pallet delivery only.
19 litres or 5 US gallon bucket
Apply to earthenware bisque and fire to cone06 (1000C over an 8 hour firing).
The most popular size we sell of the superb, easy to use, Lead Free, Dipping Clear Glaze.
This item is heavy, it weighs 30kg. More Details,...
This glaze is ready to use after thoroughly stirring it.
Water addition is necessary to achieve the original condition of the
glaze: Viscosity cup 19-20 seconds.
Once diluted, glaze must be used in reasonable short time.
This product is suitable for firing in electric kiln.
The firing temperature range from 960° C (1.760° F) to 1.060°C (1.940°
F), recommended temperature 1.000°-1.015° C (1.850 F) or Orton 06.
HST 0004 – D is suitable for the most common ceramic bodies having
a coefficient of thermal expansion of 63 x 10-7 and it is a "China
painting", gold and lustres compatible.