Gnome Plate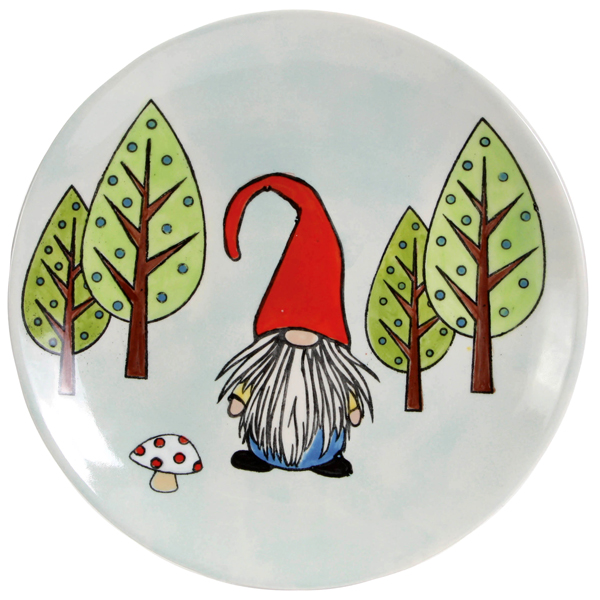 Instructions
Begin with a properly fired shelf cone 04 Bisque. Moisten a clean sponge and wipe bisque to remove dust.

Use the foam roller to roll a coat of SC-91 Seabreeze over the plate, roll in different directions to the top of the plate, doesn't need to go to the edge of the plate. The mug is rolled Seabreeze and SC-11 Blue Yonder, roll in a vertical direction.

Use a dry erase marker to scribble across the shiny side of the images used on the plate and mug. Wipe the excess off with a soft cloth. This will make the screens easier to see.

Thicken S-2101 Clear tinted with the food coloring with AC-310 Silkscreen Medium using a palette knife to the consistency of peanut butter. Place the various screen shiny side down on the plate or mug then rub the thickened clear over the screen, this is the pattern for glazing the colors.

With a wet stiff brush remove the Seabreeze glaze from the beard so that it will be white after screening .Brush the hats with SC-73 Candy Apple Red, pants with SC-76 Cara-bein Blue, nose, hands, and mushroom stem with SC-20 Cashew Later, tree branches with SC-14 Java Bean. The larger tree is SC-93 Honeydew List and the shorter one is SC-98 Slime Time. Brush all with 2-3 coats, use RB-110 Liner or RB-106 Script Liner.

Refer to the photo for the colors used on the mug.

When dry, thicken SC-15 Tuxedo follow step 4 in the directions. Lay the screen over the previously screened images, rub the thickened Tuxedo over the screens.

Brush three coats of SC-73 Candy Apple Red on the handle and inside of the mug, use RB-144 Soft Fan.

Brush the plate and the mug with two coats of S-2101 Clear using the fan or dip in a clear glaze.

Fire to cone 05/06.