Terracotta Clay Grogged 25kilo
AFD110-1
£
14.35
(temporarily out of stock)
Stock Available:
0
*Discounts below are for registered users. Click here to register »
Discount price
£12.92
£12.63
£12.20
Origin: ITALY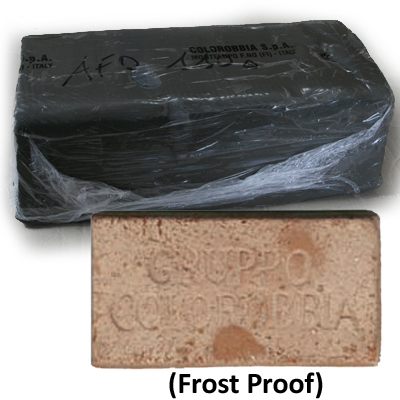 This is a strong Terra Cotta clay with added grog which, when fired will create an item that will be frost-proof. Not a clay designed to be glazed. (If wanting to glaze recommend creating test tile samples with the glaze to see reaction of choosen glaze on this clay.)
Mature at 980C which is a cone 07.

Recommended Firing Schedule for a Cone 07:
Segment 1- 180C per hour until you get to 550C,
Segment 2- 85C per hour until you reach 600C,
Segment 3- 100C per hour until you reach 916C,
Segment 4- 60C per hour until you reach 980C.
Then allow to cool for approx 8hours, or until you can unload the kiln by hand.

This item is heavy, delivery charge is based on weight and postcode. Enter your postcode at the checkout to find the actual delivery cost to your address. Delivery to most mainland UK addresses is around £20+vat. If you order multiple blocks of clay or other heavy items, goods will be sent on a pallet once an order reaches 80kg as it becomes more cost effective. Pallet delivery cost also depends on your postcode, but upto 500kg sent to Zone 1 mainland UK will cost you £54+vat. You are of course welcome to collect.