Slip and Clay
White Earthenware Slip
TUSCAN-1
array(194) {
  ["metaTitle"]=>
  string(23) "White earthenware Slip "
  ["metaDescription"]=>
  string(100) "White earthenware slip. fires to a beautiful white at cone 05.  Made in the UK by hobby ceramicraft."
  ["metaKeywords"]=>
  string(0) ""
  ["parentID"]=>
  string(5) "43625"
  ["parentIDcrypt"]=>
  string(8) "oqeel5Y="
  ["parentName"]=>
  string(13) "Slip and Clay"
  ["parentType"]=>
  string(4) "slip"
  ["grandParentType"]=>
  string(8) "slippage"
  ["grandParentName"]=>
  string(13) "Slip and Clay"
  ["grandParentID"]=>
  string(5) "43620"
  ["grandParentIDcrypt"]=>
  string(8) "oqeel5E="
  ["boolHasParent"]=>
  bool(true)
  ["boolHasGrandParent"]=>
  bool(true)
  ["page"]=>
  string(0) ""
  ["what"]=>
  string(0) ""
  ["item"]=>
  string(0) ""
  ["idCrypt"]=>
  string(8) "oqegnpc="
  ["date1"]=>
  string(19) "2014-09-25 00:00:00"
  ["date2"]=>
  string(19) "2014-09-25 00:00:00"
  ["date3"]=>
  string(19) "2014-09-25 00:00:00"
  ["date4"]=>
  string(19) "2014-09-25 00:00:00"
  ["date5"]=>
  string(19) "2014-09-25 00:00:00"
  ["radio1"]=>
  string(1) "0"
  ["radio2"]=>
  string(1) "0"
  ["radio3"]=>
  string(1) "0"
  ["radio4"]=>
  string(1) "0"
  ["radio5"]=>
  string(1) "0"
  ["check1"]=>
  string(1) "0"
  ["check2"]=>
  string(1) "0"
  ["check3"]=>
  string(1) "0"
  ["check4"]=>
  string(1) "0"
  ["check5"]=>
  string(1) "0"
  ["select1"]=>
  string(1) "0"
  ["select2"]=>
  string(1) "0"
  ["select3"]=>
  string(1) "0"
  ["select4"]=>
  string(1) "0"
  ["select5"]=>
  string(0) ""
  ["select6"]=>
  string(0) ""
  ["select7"]=>
  string(0) ""
  ["select8"]=>
  string(0) ""
  ["select9"]=>
  string(0) ""
  ["select10"]=>
  string(0) ""
  ["select11"]=>
  string(0) ""
  ["text1"]=>
  string(991) "


	Fine white earthenware slip manufactured in the UK from the same base materials as some of our clay and bisque.  With a remarkably high clay body content, and a high specific gravity (1.85!) this slip will have minimal wear on your moulds, and will not shrink much when drying





	

	The wet clay shape will be nice and strong when demoulding, and when fired to cone 05 (1031C over 8hours), will have an enviable compatibility with available hobby glazes.





	

	Each Box contains 9.5 Litres of ready to use white casting slip.





	In a production environment we recommend wearing a EN149 Dust Mask FFP2 or FFP3. Further information can be found in the Health & Safety section of this website, refer to data sheets for TFF1505 white earthenware clay.





	

	Slip is heavy, proceed to checkout to get a price to ship or call us for a quote.

	Best to collect or have sent on a pallet delivery. We do not send by parcel.


"
  ["text2"]=>
  string(62) "


	17 Kilos. Maximum number of slip on a pallet is 58


"
  ["text3"]=>
  string(0) ""
  ["text4"]=>
  string(0) ""
  ["text5"]=>
  string(0) ""
  ["text6"]=>
  string(0) ""
  ["text7"]=>
  string(0) ""
  ["text8"]=>
  string(0) ""
  ["text9"]=>
  string(0) ""
  ["text10"]=>
  string(0) ""
  ["name"]=>
  string(23) "White Earthenware Slip "
  ["fld2"]=>
  string(8) "TUSCAN-1"
  ["fld3"]=>
  string(8) "TUSCAN-1"
  ["fld4"]=>
  string(2) "15"
  ["fld5"]=>
  string(237) "A--2--10---A--5--25---A--10--30---A--15--35---A--25--37.5---B--2--10---B--5--25---B--10--30---B--15--35---B--25--37.5---C--2--10---C--5--25---C--10--30---C--15--35---C--25--37.5---D--2--10---D--5--25---D--10--30---D--15--35---D--25--37.5"
  ["fld6"]=>
  string(5) "16.84"
  ["fld7"]=>
  string(0) ""
  ["fld8"]=>
  string(0) ""
  ["fld9"]=>
  string(0) ""
  ["fld10"]=>
  string(3) "060"
  ["image1"]=>
  string(12) "TUSCAN-1.jpg"
  ["imageAlt1"]=>
  NULL
  ["image2"]=>
  string(0) ""
  ["imageAlt2"]=>
  NULL
  ["image3"]=>
  string(0) ""
  ["imageAlt3"]=>
  NULL
  ["image4"]=>
  string(0) ""
  ["imageAlt4"]=>
  NULL
  ["image5"]=>
  string(0) ""
  ["imageAlt5"]=>
  NULL
  ["imageCount"]=>
  NULL
  ["URL"]=>
  string(37) "slip-and-clay-white-earthenware-slip-"
  ["id"]=>
  string(5) "43896"
  ["boolExists"]=>
  int(1)
  ["parentWhat"]=>
  string(0) ""
  ["parentURL"]=>
  string(13) "slip-and-clay"
  ["boolParentEditable"]=>
  string(1) "1"
  ["active"]=>
  string(1) "1"
  ["navItem"]=>
  string(1) "0"
  ["footerItem"]=>
  string(1) "0"
  ["subFooterItem"]=>
  string(1) "0"
  ["boolEditable"]=>
  string(1) "1"
  ["userID"]=>
  NULL
  ["id2"]=>
  int(0)
  ["id3"]=>
  int(0)
  ["commodityCode"]=>
  string(2) "UK"
  ["nameLong"]=>
  string(8) "TUSCAN-1"
  ["code"]=>
  string(8) "TUSCAN-1"
  ["weight"]=>
  string(5) "17.52"
  ["sageCode"]=>
  string(8) "TUSCAN-1"
  ["quantity"]=>
  string(2) "15"
  ["price"]=>
  string(5) "16.84"
  ["price2"]=>
  int(0)
  ["price3"]=>
  int(0)
  ["size"]=>
  string(0) ""
  ["size2"]=>
  int(0)
  ["size3"]=>
  int(0)
  ["boolSize2"]=>
  bool(false)
  ["boolSize3"]=>
  bool(false)
  ["inStockSize1"]=>
  bool(true)
  ["inStockSize2"]=>
  bool(false)
  ["inStockSize3"]=>
  bool(false)
  ["boolDiscounts"]=>
  bool(true)
  ["boolKilns"]=>
  bool(false)
  ["strDiscountString"]=>
  string(237) "A--2--10---A--5--25---A--10--30---A--15--35---A--25--37.5---B--2--10---B--5--25---B--10--30---B--15--35---B--25--37.5---C--2--10---C--5--25---C--10--30---C--15--35---C--25--37.5---D--2--10---D--5--25---D--10--30---D--15--35---D--25--37.5"
  ["date1day"]=>
  string(2) "25"
  ["date1month"]=>
  string(2) "09"
  ["date1year"]=>
  string(4) "2014"
  ["date2day"]=>
  string(2) "25"
  ["date2month"]=>
  string(2) "09"
  ["date2year"]=>
  string(4) "2014"
  ["check6"]=>
  string(1) "0"
  ["check7"]=>
  string(1) "0"
  ["check8"]=>
  string(1) "0"
  ["check9"]=>
  string(1) "0"
  ["check10"]=>
  string(1) "0"
  ["file1"]=>
  string(0) ""
  ["file2"]=>
  string(0) ""
  ["file3"]=>
  string(0) ""
  ["file4"]=>
  string(0) ""
  ["file5"]=>
  string(0) ""
  ["file6"]=>
  string(0) ""
  ["file7"]=>
  string(0) ""
  ["file8"]=>
  string(0) ""
  ["file9"]=>
  string(0) ""
  ["file10"]=>
  string(0) ""
  ["file1label"]=>
  string(0) ""
  ["file2label"]=>
  string(0) ""
  ["file3label"]=>
  string(0) ""
  ["file4label"]=>
  string(0) ""
  ["file5label"]=>
  string(0) ""
  ["file6label"]=>
  string(0) ""
  ["file7label"]=>
  string(0) ""
  ["file8label"]=>
  string(0) ""
  ["file9label"]=>
  string(0) ""
  ["file10label"]=>
  string(0) ""
  ["breadcrumb"]=>
  string(0) ""
  ["fld11"]=>
  string(5) "17.52"
  ["fld12"]=>
  string(0) ""
  ["fld13"]=>
  string(0) ""
  ["fld14"]=>
  string(0) ""
  ["fld15"]=>
  string(0) ""
  ["fld16"]=>
  string(0) ""
  ["fld17"]=>
  string(0) ""
  ["fld18"]=>
  string(0) ""
  ["fld19"]=>
  string(0) ""
  ["fld20"]=>
  string(0) ""
  ["fld21"]=>
  string(2) "UK"
  ["fld22"]=>
  string(0) ""
  ["fld23"]=>
  string(0) ""
  ["fld24"]=>
  string(0) ""
  ["fld25"]=>
  string(0) ""
  ["fld26"]=>
  string(0) ""
  ["fld27"]=>
  string(0) ""
  ["fld28"]=>
  string(0) ""
  ["fld29"]=>
  string(0) ""
  ["fld30"]=>
  string(0) ""
  ["fld31"]=>
  string(0) ""
  ["fld32"]=>
  string(0) ""
  ["fld33"]=>
  string(0) ""
  ["fld34"]=>
  string(0) ""
  ["fld35"]=>
  string(0) ""
  ["fld36"]=>
  string(0) ""
  ["fld37"]=>
  string(0) ""
  ["fld38"]=>
  string(0) ""
  ["fld39"]=>
  string(0) ""
  ["fld40"]=>
  string(0) ""
  ["image1alt"]=>
  string(32) "White Earthenware Slip  TUSCAN-1"
  ["boolImage1"]=>
  bool(true)
  ["image2alt"]=>
  string(0) ""
  ["boolImage2"]=>
  bool(false)
  ["image3alt"]=>
  string(0) ""
  ["image4alt"]=>
  string(0) ""
  ["image5alt"]=>
  string(0) ""
  ["image6"]=>
  string(0) ""
  ["image6alt"]=>
  string(0) ""
  ["image7"]=>
  string(0) ""
  ["image7alt"]=>
  string(0) ""
  ["image8"]=>
  string(0) ""
  ["image8alt"]=>
  string(0) ""
  ["image9"]=>
  string(0) ""
  ["image9alt"]=>
  string(0) ""
  ["image10"]=>
  string(0) ""
  ["image10alt"]=>
  string(0) ""
  ["pricing"]=>
  string(8) "TUSCAN-1"
  ["tradePricing"]=>
  string(5) "17.52"
  ["weightGrams"]=>
  string(2) "15"
  ["weightKG"]=>
  string(4) "0.15"
  ["length"]=>
  string(237) "A--2--10---A--5--25---A--10--30---A--15--35---A--25--37.5---B--2--10---B--5--25---B--10--30---B--15--35---B--25--37.5---C--2--10---C--5--25---C--10--30---C--15--35---C--25--37.5---D--2--10---D--5--25---D--10--30---D--15--35---D--25--37.5"
  ["height"]=>
  string(5) "16.84"
  ["width"]=>
  string(0) ""
}

£
16.84
Stock Available:
15
Discount price
£15.16
£12.63
£11.79
£10.95
£10.61
Origin: UK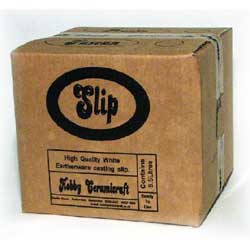 Fine white earthenware slip manufactured in the UK from the same base materials as some of our clay and bisque. With a remarkably high clay body content, and a high specific gravity (1.85!) this slip will have minimal wear on your moulds, and will not shrink much when drying

The wet clay shape will be nice and strong when demoulding, and when fired to cone 05 (1031C over 8hours), will have an enviable compatibility with available hobby glazes.

Each Box contains 9.5 Litres of ready to use white casting slip.
In a production environment we recommend wearing a EN149 Dust Mask FFP2 or FFP3. Further information can be found in the Health & Safety section of this website, refer to data sheets for TFF1505 white earthenware clay.

Slip is heavy, proceed to checkout to get a price to ship or call us for a quote.
Best to collect or have sent on a pallet delivery. We do not send by parcel.